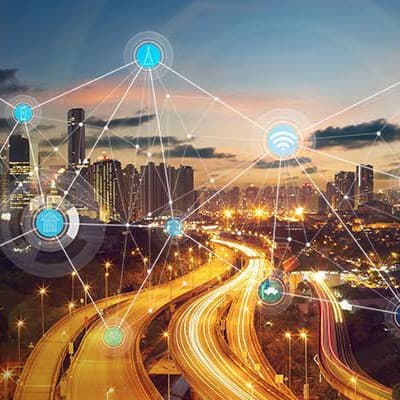 Up until now, the Internet of Things (IoT for short) has mainly been a catchphrase.
Ask the man in the street about the IoT, and most will struggle to articulate the essence of this technology.
Thankfully, this is likely to change in 2017 with the foreseeable collision of the IoT, artificial intelligence and machine learning.
In this article from Omron we gaze into our crystal ball and look ahead into possible transformative IoT developments which we may encounter more commonly in the year ahead.
The IoT in everyday life
The IoT has always been predominately deployed for backend infrastructure applications. Think remote sensors for a smart power grid and self-learning robots found in a smart factory for example.
In 2017, we expect this technology to become increasingly part of your everyday life. The possibilities are limitless, from a connected fridge that can track your food supply to internet-connected cars such as the Roewe RX5.
Omron has just announced its new human detecting sensor, the HVC-F, which is designed to greatly enhance building automation, giving workers access to machines without the need for protective barriers. It can sense humans and their surroundings in 3D space, warn of any impending danger, or deactivate machinery.
This means people can work with machines with a reduced risk of injury.
It can detect the number and position of people with higher precision, enabling new services to improve office space usage efficiency. By incorporating HVC-F with meeting room reservation systems, enterprises can now track and study room occupancy and usage pattern.
Usually, automatic lighting is controlled with infra-red sensors that detect humans and switch lights on or off accordingly. However, with more refined information regarding how many people are present and where they are provided by the HVC-F it is possible control lighting with increased sophistication and improve energy efficiency.
Similar results can be achieved through precise air conditioning control by replacing the traditional indoor thermostat with the HVC-F.
While these are just a few of the emerging use cases, your home and workplace are going to become increasingly connected – imagine the applications to a wider spectrum of everyday products. The question is no longer that of "if", but "when".
No IoT device will be complete without a service element
Today's savvy consumers are demanding more than ever. Being smart is not good enough. More and more IoT device manufacturers are introducing value-added services to differentiate their offerings.
Take the Roewe RX5 for instance. Not only can this sports utility vehicle recognize different drivers to personalize climate control and in-car entertainment accordingly, it also provides the added flexibility to automatically pay for fuel, parking, and toll charges electronically and securely.
On the industrial front, air pump maker Kaeser Kompressoren is putting sensors into its compressors to collect data. This gives the German company a clearer understanding of its machine to introduce a new way to generate revenue, selling air by cubic metre through its air-as-a-service business model.
IoT-as-a-service (IoTaaS): IoT and software-as-a-service mash up
We all know IoT is a game changer, but its high startup costs can be a huge financial burden for most small and medium enterprises. To lower the barriers to entry, Rogers Communications from Canada has rolled out two new IoTaaS solutions – farm and food safety monitoring to receive real-time data on livestock and equipment, as well as level monitoring of materials throughout a supply chain.
According to Rogers Communications, "We're bringing connectivity, monitoring, and management of IoT solutions in-house so our customers can now focus on running their business, while we take care of managing the day-to-day". Another key IoTaaS player on the market is Ericsson, which offers what it advocates as "IoT Accelerator" – a suite of software and services tailored for utilities, public safety, transport and smart cities.
Industrial IoT (IIoT) gaining momentum across the world
You can picture IIoT as a specialised variant of the IoT, created to address the unique challenges and needs of manufacturing, transport and other industries.
Originally envisioned to boast productivity and operational efficiency, many early IIoT adopters are now seeing it as a valuable tool to unearth new opportunities and drive innovation, thanks to a wealth of data created by industrial equipment, including assembly machines and robots.
The confluence of the IIoT and analytics will produce insights that allow companies to capture new growth areas. For starters, dramatically boosting production to increase revenue, the creation of new business models, and above all, drive innovation and workforce transformation.
The IoT market will largely remain fragmented
For all the buzz and excitement surrounding the IoT, there is still a lot of work to be done. One of the biggest hurdles right now is fragmentation. With a multitude of standards and protocols, exacerbated by conflicting directions between major players, an interoperable and unified IoT ecosystem has so far been elusive.
To illustrate our point, OneM2M is lobbying for its own set of IoT specifications, while Open Source Internet of Things (OSIOT) prefers to take an open source approach instead.
As more consortiums and organisations join the frenzy, it will be increasingly challenging to achieve an industry-wide standardisation solution.
Overwhelmingly positive market sentiment
Still, overall market sentiment has been overwhelmingly positive despite the ongoing fragmentation issue. Markets and Markets is predicting that the IoT market is worth a lucrative US$662 billion by 2021.
Based on IDC's latest G20 IoT Development Opportunity Index, Australia, South Korea, and Japan are currently among the top five countries poised to capitalize on IoT, thanks to their business and technological preparedness.
This will be an even more exciting year for Omron as the organisation continues to push the boundaries in IoT innovation, helping businesses to grow despite economic uncertainty – and enriching lives in our society.
Omron Electronics
1300 766 766
www.omron.com.au