INVIGORATE YOUR SENSES AND REFRESH YOUR MIND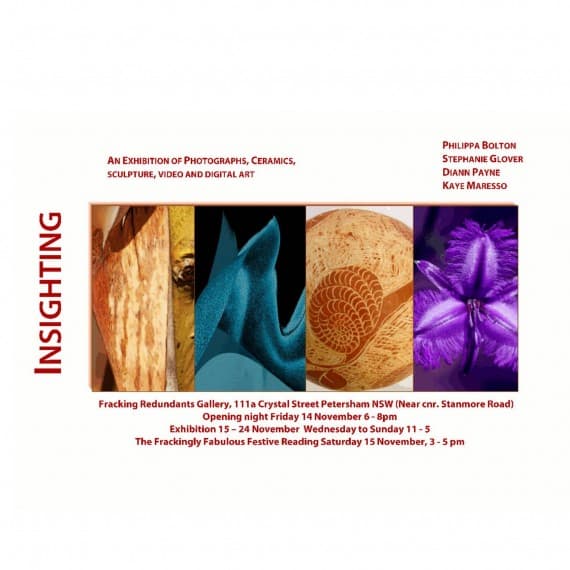 Tracy Filby invites you to take a break from your busy work schedule to check out a new exhibition of photographs, ceramics, sculpture, video and digital art in Sydney.  
Insighting is a gathering of artistic creations from four women, reflecting and exploring their internal visions and external ideas. 
 
Philippa Bolton (Photograpy & Ceramics), Stephanie Glover (Video & Digital Art), Diann Payne (Photography) and Kaye Maresso (Sculpture) will have their latest works on show at the Fracking Redundants Art Gallery at Petersham.
The artists have used photography, video, ceramics, sculpture and digital art to portray their uniquely arresting visual view of the world.

This wide range of work and mediums has produced a diverse and stimulating exhibition, invigorating the senses and refreshing the mind.

The exhibition opens on Friday night (November 14) and will run until November 24.
The works will be on display from Wednesday to Sunday (11am-5pm).
Fracking Redundants Art Gallery
111A Crystal St, Petersham
Contact Tracy Filby: 0406 061 354 or Gallery: 02 9568 2980