Introducing Vahle CPS for 'systems in motion'
31-08-2010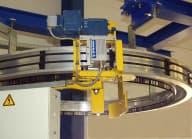 The abbreviation CPS stands for Contactless Power Supply.
This system supplies power to mobile electrical consumers without any contact.
The power is inductively transmitted from a stationary (primary) conductor to a mobile consumer such as an Automated Guided Vehicle, Skillet Conveyor, Transfer Cars, Electrified Monorail Systems, Sortation Technology, Clean-room applications and Elevator Systems.
A unique feature of CPS is that in addition to basic current supply data transmission and inductive vehicle guidance can also be integrated to meet a wide spectrum of materials handling applications.
As the name implies the CPS system is contactless and does not require the use of current collector brushes and therefore no carbon dust is produced and is virtually maintenance free. The primary conductor can be installed directly into the concrete floor for Automated Guided Vehicles and Conveyors leaving a clean floor eliminating trip hazards or mounted to just about any rail system for other applications.
Data Transmission requires no additional components along the track by simultaneously using the Primary Conductor Cable for transmitting the data signal at a rate of up to 187.5 kbps and is absolutely interference immune due to the high frequency separation to the currently common radio transmission systems.
Additional information regarding this and other Vahle Systems can be found at
www.vahle.de
or by contacting the sales team at Cavotec Australia.
Cavotec Australia Pty Ltd
Ph: 02 4956 5788