Introducing Turboshield: The Next Generation of Safety Faceshield
16-06-2014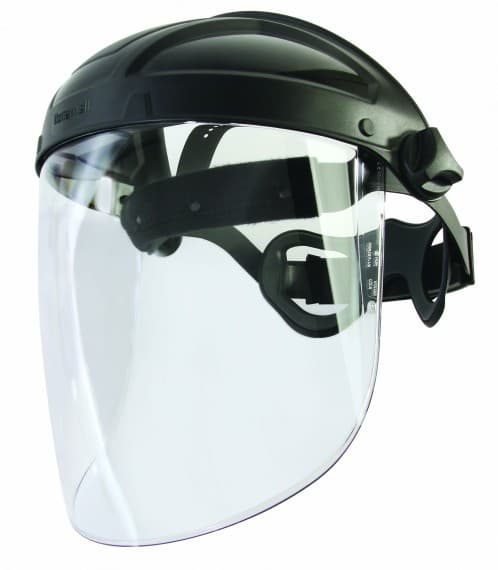 The face of safety has changed with the introduction of the Honeywell Turboshield extra high impact rated faceshield.
Workers dealing with chemicals, molten metals, hot solids, or high level impact risks need a faceshield they can always rely on.
Honeywell Turboshield delivers superior quality protection at a competitive pricewithout compromising on safety.
Features include:
Increased safety protection
Better all-day comfort and ergonomics
Quick and simple visor exchange
Groundbreaking hard hat adapter
Compatibility with a wide range of other personal protective equipment.
The Honeywell Turboshield visor provides 50 per cent more chin coverage than a traditional style faceshield, without the need for any bulky additional accessories.
When safety equipment is comfortable to wear, it gets worn by workers.
The Honeywell Turboshield's suspension has tripled the contact area with the head compared to traditional suspension, eliminating pressure points for maximum comfort throughout the day. Dual material technology cushions the head, and the breathable headband is removable and washable.
Honeywell Turboshield is also adjustable for a wide range of facial structures with easy-to-use ergonomic adjustment knobs that can even be operated while wearing gloves.
Honeywell's visor exchange system allows visors to be released from the Turboshield with the push of a button and securely attached within seconds. Visors are sold separately, allowing you to select the correct one for your safety needs.
Turboshield visors are available in clear, for most indoor applications – Shade 3.0, a welding shade for torch brazing applications and Shade 5.0, a welding shade suitable for cutting operations.
The clear visors are additionally available either uncoated or with anti-fog Hardcoat for extended visor life. The toric lens provides for stunning clarity of vision and an increased field of view.
The hard hat adapter is compatible with most major hard hats, including the entire Honeywell hard hat range.
Only full-brim hard hats cannot be used in conjunction. Featuring the same innovative visor exchange system as the faceshield, the Turboshield hard hat adapter combines a smooth pivot action with a positive-locking hinge to keep the visor securely in place, either raised or lowered.
Hard hat accessory slots are left free for additional personal protective equipment, and an integrated brim guard protects against falling debris, providing a gap-free fit.
The visor slides 170mm back when worn with the Turboshield hard hat adapter, improving weight distribution and balance.
The dual hinged design of the hard hat adapter also increases clearance up to 100mm.
Also, the Honeywell Turboshield is compatible with a wide range of personal protective equipment available from Honeywell Safety Products, such as Howard Leight by Honeywell helmet-mounted earmuffs, Honeywell disposable respirators, and Honeywell eyewear.
The Honeywell Turboshield is approved under licence number SMK 02209/3 as compliant with AS/NZS 1337.1:2010 for extra high impact, splash resistance, molten metal, and hot solids. Welding lenses are additionally approved as compliant with AS/NZS 1338.1.
Honeywell Safety
Ph: 1300 139 166