Published 13-05-2021
| Article appears in June 2021 Issue
Introducing the QTA163 Custom Micro Rotary Torque Sensor from Futek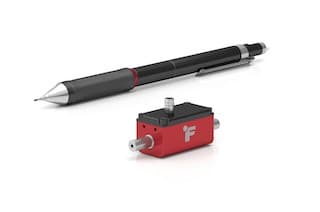 The compact QTA163 Custom Micro Rotary Torque Sensor from Futek is designed to measure reaction torque moment loads in both a clockwise and counter clockwise direction.
It features integrated TEDS, is RoHS compliant and has a stainless steel shaft with 7-pin quick disconnect nano receptacle.
Temperature-compensated and constructed of aluminium throughout, this precision micro rotary torque sensor is able to achieve an impressive +0.1% nonlinearity and yet provide 150% (22.68 to 68.04 kg) over-capacity.
Torque sensors are used throughout industry for product testing, robotic assembly, grinding and polishing. 
Features:
Safe Overload  - 150% of R.O.
Capacity - 1N-m
Nonlinearity -  Min  -0.1 Max  0.1 % of RO
Aluminum Construction
Mounting Type - Shaft
For more information, contact: www.metromatics.com.au