INTRODUCING THE NEW CLARK PX20 PALLET TRUCK
15-01-2015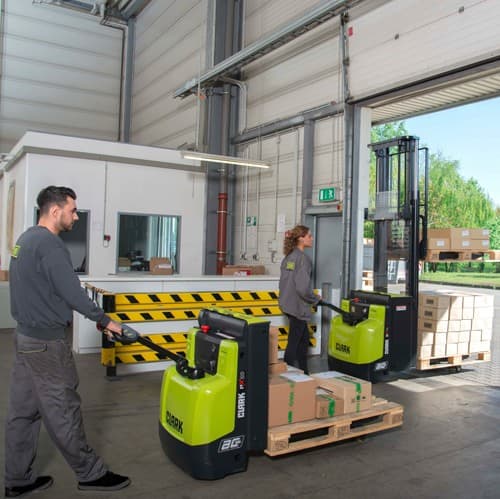 Materials handling specialists, Clark is expanding its range of lift trucks with the new PX20 pallet truck.
The PX20 offers a load capacity of 2t @ 600mm load centre, and a powerful AC-motor, making it the ideal machine for use in warehouses and any other material handling application.
The Clark PX20 provides the user with a robust and long-lasting electric pallet truck. Whether for loading and unloading of vehicles or heavy material handling in the warehouse, Clark warehouse trucks are made for tough applications and can be equipped with batteries up to 375Ah.
The Clark PX20 has been fitted with a newly developed ergonomic tiller arm, giving the operator more time to focus on the application. The robust construction of these trucks is clearly recognizable.
Clark uses only proven components. All of which, including the metal tiller arm and battery cover, gears, axles and motors, have been designed for reliability and a long service life.
With a maintenance free AC-drive motor, the Clark PX20 is dynamic and precise.
The Zapi-control (Zapi AC-O) allows for the operator to adjust the driving behaviour so performance can be adapted to the application.
The maintenance-free AC traction motors and the one-piece hood keep your maintenance costs to a minimum.
Service technicians have easy and quick access to the major key components.
Clark International South Pacific Pty Ltd
Ph: 02 9477 8444