Introducing the compact Klikseal grommet
31-08-2010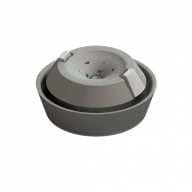 Klikseal is a revolutionary two-component grommet with cable anchorage.
Available from Treotham Automation, Klikseal has an integrated tension relief, wide sealing range.
It is suitable for holes in materials of 1.5mm to 5mm thickness. 
Kilkseal can be simply assembled without the use of tools – and it is Halogen-free.
It is compact, self-adjusting to its surrounding wall thickness.
Click-fixed in place, it is waterproof with a membrane seal.
Kilkseal requires very little effort to install with its collapsible outer membrane.
No tools are required. A pop-out membrane provides a permanent seal until penetrated by a cable or pipe. 
Each size of Klikseal can be used with a large range of cable and pipe diameters. 
An M25 can be used for cables and pipes ranging from 4mm to 14mm. 
Because of its compact design, the Klikseal only extends 5.7mm outside the housing on which it is mounted.
Special features:
Material: TPE and Polyamide 66 UL approved material
Protection class:IP67/IP65
Temperature range: -20°C – +125ºC
Test standard: EN60529:1991+A1, EN50262:1998, EMKO-TUI (03-SEC) 
Treotham Automation Pty Ltd
Ph: 02 9907 1778