Introducing AmpCom – advanced motor protection
31-08-2010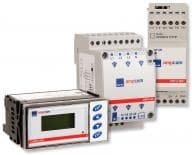 NHP has released AmpCom – a new Networkable Motor Protection, Control and Energy Monitoring System.
AmpCom, designed exclusively by NHP for the local market, features a compact and modular design suited for constant speed AC motor applications up to 2000A. AmpCom combines motor related parameters and metering (current, voltage and power) functions together with available I/O to monitor, control and protect processes from safe and convenient locations.  
If safety, productivity and plant optimisation is your goal, AmpCom is the ultimate choice.
It is ideal for a broad range of applications including mining, mineral processing, energy/utilities, oil and gas, food and beverage and more.
With AmpCom from NHP you can achieve plant optimisation and prevent costly unwarranted breakdown situations. It also helps you to accomplish sustainable production and maintain higher efficiency, applicability and expandability. 
The added bonus of installation flexibility to meet any MCC requirement also increases usability. 
The AmpCom range perfectly complements NHP's extensive range of switchgear. It can be combined with CUBIC MCC Multi-Draw solutions and other NHP switchgear such as Terasaki Circuit Breakers, Sprecher + Schuh Contactors.
With AmpCom you can achieve a complete MCC solution while maintaining safety. 
NHP Electrical Engineering Pty Ltd
Ph: 03 9429 2999