THE INTERNET OF THINGS EXPANDS TO YOUR KITCHEN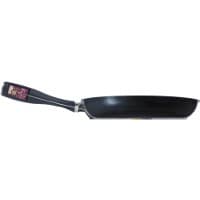 The frying pan is the latest device to enter the Internet of Things: the Pantelligent promises to teach you how to cook the perfect meal.

The Pantelligent is a bluetooth-enabled, temperature-sensing frying pan that connects with your phone to give you feedback and help you cook in realtime.

The app, which comes with a large range of recipies, can let you know what temperature the pan is currently at, when to adjust the temperature, and when to stirr, add, or flip ingredients in the pan.

It might not be an essential purchase for a seasoned chef, but for anyone who is starting out cooking, or unsure about a new recipe, the smartpan offers a simple, reassuring way to get started.

After a successful Kickstarter campaign, the smartpan has been featured in TIME Magazine, and ranked one of the best inventions of the year.

Pantelligent
Web: https://www.pantelligent.com