INTERNATIONAL PACKING NETS AWARD
05-10-2017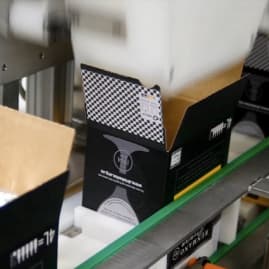 Manufacturer of automated packaging machinery Hot Melt Packaging Systems has been named winner at the Impact Awards 2017. 
HMPS was among a group of eight finalists out of a group of forty entries, competing for an award that recognises South Australian businesses and their contributions to the global economy. 
HMPS was recognised as having the capability to have a significant impact on global markets, and generate high value opportunities for South Australia's economy.
The judges were impressed by the year on year growth, advancement and ambition of HMPS.
In accepting the award, Mark Emmett, Executive Chairman for HMPS praised the team and said that his vision for the company was always to provide jobs and a future for the young people of South Australia. Today the company employs 55 people from its head office and main production facility in Adelaide.
HMPS provides customised packaging solutions which are based on highly advanced robotic systems for manufacturing companies who must compete globally. "The technology also recognises that to truly compete against lower cost manufacturers, product quality and production line efficiency must also feature strongly. Their mission is to help manufacturing companies in high cost economies remain competitive and indeed thrive against low cost economies," said Emmett.
"As HMPS grows, our requirements for highly skilled engineers, technicians and other qualified people will provide a boost for the local economy. There are significant opportunities for the company to take on new markets and generate prosperity for its own health, customers and for the good of South Australia."
The award comes on the back of HMPS being named as one of the Top 100 companies in South Australia. According to Emmett, the company is focused on growing HMPS and the manufacturing sector of South Australia.
The Impact Awards are driven to assist with the globalisation of the South Australian economy, by focusing on companies with the greatest global potential to increase their impact on world markets.
Hot Melt Packaging Systems
08 8150 1000
www.hmps.com.au