INTERFACES OFFER INDUSTRIAL-SPEC ALTERNATIVE TO RJ45
14-02-2018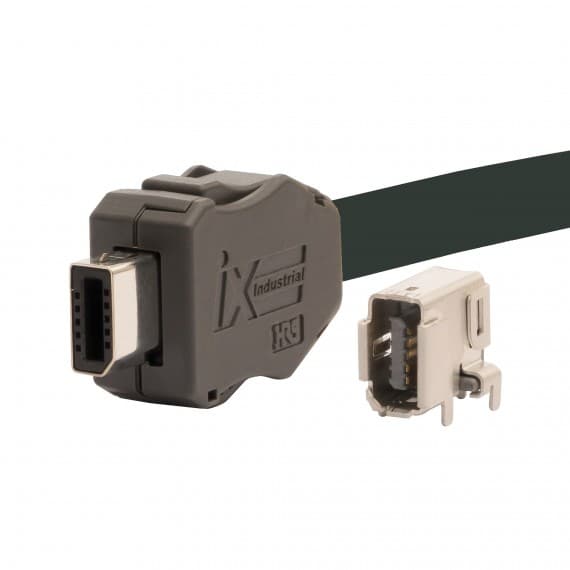 New interconnection technology developed by Hirose has led to the release of the ix Industrial range of Ethernet interfaces available from RS Components. The robust miniature interfaces offer reliability and performance advantages over traditional RJ45 connections in applications such as machinery, robotics, and transportation.
Hirose ix Industrial interfaces take up 70% less space than the standard RJ45 and enable parallel 11mm-pitch mounting. They are also inherently safer because the two snap-in metal hooks ensure that the receptacle and connector are more securely connected. Robustness is provided via the use of five through-hole shield contacts, which offer maximum stability on the PCB, increasing locking strength and providing durable cable connection of the plug. The robust structure also supports strong resistance to vibration and shock, enabling 5000 mating cycles.
The range is designed to provide Cat 6A performance for up to 10Gbit/s Ethernet data transmission and is standardised to IEC/PAS61076-3-124. The design incorporates a continuous 360° shield, ensuring the integrity of data transmission, even in EMC-critical applications.
The Hirose ix Industrial range of Ethernet interface connectors is available now in Australia from RS Components.
RS Components
1300 656636
au.rs-online.com