INTERFACE MODULES SIMPLIFY RFID INTEGRATION
28-09-2017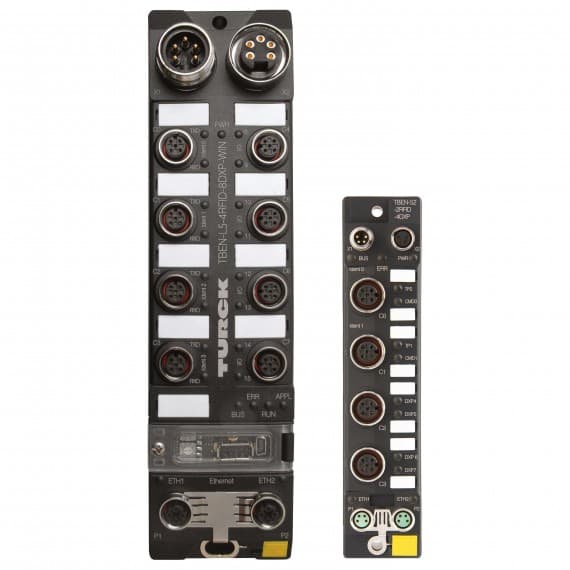 Two new interface modules from Turck aim to simplify RFID integration in industrial environments. Thanks to IP67 ratings, the TBEN-S-RFID and TBEN-L-RFID can be mounted outside control cabinets, which will be useful for retrofitting RFID applications.
The modules allow both actuators and sensors to be connected with RFID read/write heads simultaneously. This feature simplifies the installation and wiring required for industrial identification solutions.
The TBEN-S-RFID is a compact module that is only 32mm wide and is easy to integrate with its conventionally mapped RFID data. It has two RFID ports, and four configurable digital I/O points for external devices. It can easily read and write 8Kbyte HF tags. The power and network connections are via M8 connectors.
The larger TBEN-L-RFID module integrates PLC capabilities using Codesys. The controller can be used to filter and pre-process RFID data and link to broader control operations, simplifying the integration of high-speed dynamic or multi-tag RFID applications.
The module has four RFID ports for readers, and eight universal DXP I/Os for sensors or actuators. It offers 256Mbyte of Flash memory and includes an 800MHz CPU with 128Mbyte of DDR3-RAM. TBEN-L-RFID devices connect via an M12 connector to the Ethernet layer.
Both RFID interface devices feature multiprotocol Ethernet technology with options of Profinet, EtherNet/IP and Modbus TCP.
Turck Australia
1300 132 566
www.turck.com.au