Industrial lasers & sensors
INTELLIGENT SENSORS ENABLE 100% QC IN INJECTION MOULDING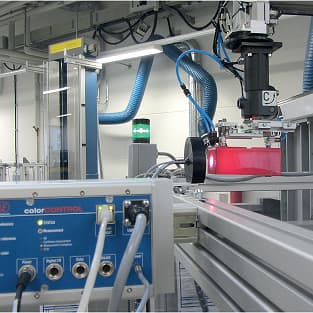 As manufacturers put pressures on quality and efficiency, inline inspection of product quality has become an integral part of quality control. In plastics processing and injection moulding, where defect detection and colour control of components are important aspects of the production cycle. Using appropriate sensor technology an automated inspection system can be set up to improve production efficiency.
Colour is one of the integral parameters in the plastic processing industry. Although colour can be visually interpreted from eye's perception, the quantification of its physical value is more precise and a more accurate representation of colour shade than visual inspection. This measurement method is a very effective technique for colour analysis.
Advances in sensor technology have opened potential for inline colour measurement, which is a cost-effective option in comparison to the expensive and time-consuming offline measurement process.
Modern injection moulding systems are generally equipped with automatic handling systems for removal and storage of components. During automatic removal of the components, a decision on "good/bad" component must be made within a short timeframe. The aim is to prevent problems that may disrupt further processing and to take any corrective measures as quickly as possible, to avoid unnecessary costs.
How do you achieve 100% inline control? The answer is through combination of different sensors and inspection techniques to enable easy and flawless in-process monitoring.
MicroEpsilon has made this a reality, and this system has been proven in both the plastics and automotive industries, where colouring errors cannot be tolerated.
For the solution, an industrial thermal imaging camera and inline colour measurement sensor are combined to simultaneously measure and inspect the moulding quality during production. The sensors and components are positioned in such a way to enable comparison between thermographic images from one video to another. This enables a direct comparison of the measured colour values to a normalised standard.
Defect detection using infra-red thermography
The inline infra-red thermography system detects variation in quality by using an infra-red camera. The thermal camera from MicroEpsilon is capable to capture the entire component in up to six different views and allow the users to visually examine them. The temperature distribution provides a global quality statement about incorrect temperature control of the workpiece, tools malfunction, visible geometry errors and hidden defects.
As the first good component is detected reliably immediately after restart, the system minimises start-up rejects following periods of downtime or tool replacements.
The results are evaluated based on the difference between the reference image taken during ideal time and the current infrared image of the component. The identified temperature difference provides the basis for a good/bad decision. This can be freely specified in the software settings. Based on these results, defective components can be removed from the production line without having to stop the production.
Furthermore, the system also has the capability to store the limit values for different components in the database that can be easily accessed and retrieved. It may produce a warning signal to the operator when extreme differences in results have occurred, which will prompt machine shut-down and production stop before further losses occur.
This configuration offers 100% traceability of data that are integral for continuous improvement in manufacturing.
Inline colour measurement for enhanced reliability
For each component that passes the thermal imaging test, its colour will then be inspected with the inline ACS7000 colour sensor from MicroEpsilon.
In plastics processing, random fluctuations in temperature, also known as "thermochromism", cause changes in colour. This problem is even more pronounced for red dyes due to difficulties in differentiating variation in colour shades. Even a slight difference in temperature of 20°C may result in colour deviation of more than 2ΔE. The reference data are stored in the system and error limits can be set to distinguish between good/bad products.
By first measuring the temperature profile, followed up by direct measurement of colour values, this system manages to achieve 100% inline quality testing with good reliability. Both sensors can be directly installed in the production line thus minimising the need for retrofit and process modification. The sensors are also able to deliver fast response to avoid high rejection rates in case of production errors. Customised, engineered solutions for special applications are also possible with minimum costs.
Colour sensor for any surfaces
The optical sensor offers three different types of sensor head to suit measurements made on different surfaces. A circular sensor is the most suitable option for colour measurement on the highly reflective, shiny and metallic surfaces. It has 24 lighting optics that are arranged in a circular fashion around the receiving optics to provide continuous lighting which produces stable measurement regardless of the objects position.
Alternatively, the standard sensor head with integrated transmitter and receiver can be used for measurement on matt and fine-structured materials. Otherwise, the ACS7000 colour sensor also offers a separated transmitter and receiver unit for measurements of self-luminous and transparent objects, such as film, glass or Plexiglas.
Bestech Australia
03 9540 5110
www.bestech.com.au