INTELLIGENT PLASTICS COMBINE TO AVOID UNSCHEDULED SHUTDOWNS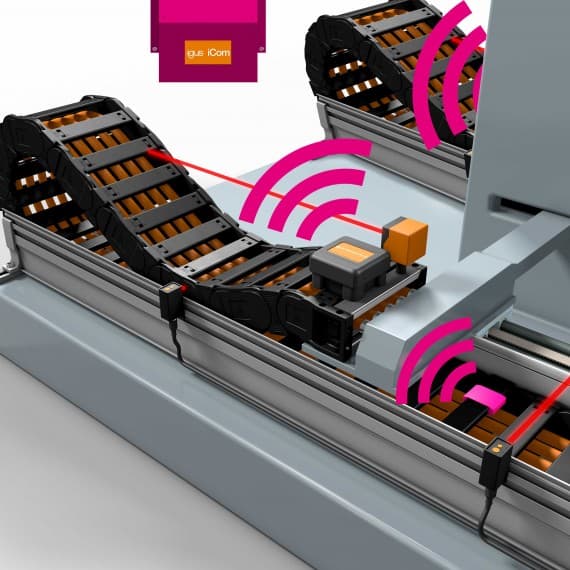 The recent Hannover Messe saw 2017 saw igus expand its isense family of products, available in Australia from Treotham Automation.
The latest additions include the isense EC.RC e-chain monitoring system, the optimised CF.Q module for intelligent chainflex cables and the intelligent iglidur PRT slewing ring bearings.
The isense EC.RC (e-chain run control) unit is designed to monitor the operating status of e-chains, particularly those in guide troughs used on long travel applications. Sensors measure and check the position of the energy chain and provide immediate feedback in the case of a mechanical fault. By preventing the machine from operating, the system can help avoid a catastrophic failure such as a complete chain break or power loss due to cable damage.
The isense EC.M module is mounted on the moving end of the chain and automatically records its status data, such as acceleration, speed, temperature and completed cycles. These data allow the system to calculate the total distance travelled and the remaining service life of the system.
Similarly, the improved CF.Q module gathers data on the intelligent chainflex cables. And thanks to the continuous measurement of the electrical properties, ambient temperature and the number of cycles, any possible failure of the cable can be predicted in good time.
Igus has also improved its icom communications module, which gathers and transfers all the values of these systems. It is even easier to integrate into existing systems, and only a single icom module is needed for multiple systems. In addition, customers can now connect other manufacturers' sensors to the icom module.
Finally, the intelligent iglidur PRT slewing ring bearing features an integrated wear sensor, which is mounted in a cutout niche under the slide elements. The so-called PRT.W sensor (W for wear) also measures abrasion so that bearing replacements can be scheduled to avoid machine shutdowns.
Treotham Automation
02 9907 1788
www.treotham.com.au