Published 19-01-2021
| Article appears in February 2021 Issue
Intelligent IIOT Edge Controller ICP DAS'WISE-5236M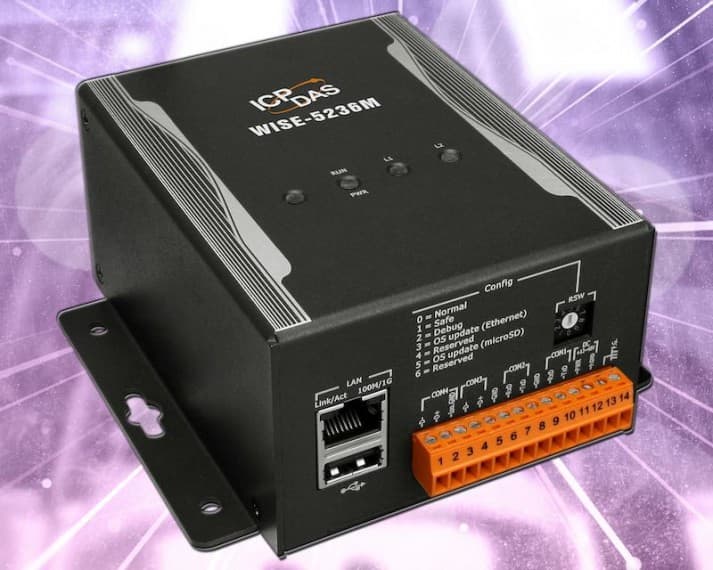 ICP Australia introduces ICP DAS WISE-5236M Intelligent IIoT Edge Controller.
The WISE-5236M (Web Inside, Smart Engine) functions as a control unit for use in remote logic control and monitoring in various industrial applications.
WISE-5236M offers a user-friendly and intuitive web site interface that allows users to implement IF-THEN-ELSE control logic on controllers just a few clicks away with no programming, required.
With the built-in IF-THEN-ELSE logic engine, WISE-5236M can execute the automation logic in a stable and efficient manner.  It also provides mathematic operation, Schedule, and Email alarm message sending functions.
WISE-5236M provides more supports in I/O module connection, I/O data logging, and IoT platform integration. It allows connection to XV-board, DCON I/O modules, and Modbus TCP/RTU Slave modules all together.
The wide range of selection options enables flexibility in I/O module integration to meet the requirements from various applications.
WISE-5236M provides the MQTT client; it can directly connect to the major public IoT Cloud platform (such as Microsoft Azure or IBM Bluemix) and MQTT Broker.
WISE-5236M also provides well-thought-out CGI command functions to integrate with IP cameras for the Access Control applications.
Based on the ability as I/O module connection ability, Intelligent logic control, Data logging, and various communication protocols supported (SNMP, MQTT, and Modbus TCP/RTU), WISE-5236M can help the IT/MIS/MES/SCADA system to manage the field side I/O modules and sensors efficiently in the application, such as Unmanned Facility Room Monitoring, Intelligent Factory and Environment Monitoring.
WISE-5236M is not just a Concentrator of I/O modules and Sensors; it is also a Gateway to transfer the sensor data to the IoT Cloud platform. All of these make WISE-5236M the best choice in the IoT Age.
Key features include, it runs on browsers and no extra software tool is required. There's no more programming, with web pages provided for control logic editing.  As mentioned it uses IF-THEN-ELSE Logic Rules Execution Ability and support XV-Board.
It has Support DCON or Modbus RTU Slave Modules (Up to 32, COM3, COM4 and Can Connect to Max 16 Modules Individually.
It supports up to 16 Modbus TCP Slave Modules and timer and schedule functions are supported.
Data Logger and Data Files Send Back Function is also Supported with active I/O Sending Function for Real-Time Data Transfer.
While the CGI Command Sending and Receiving Function Supported for IP Camera and Network Device. Features also include support line and email message sending with WeChat Messaging and supports connect with IoT Clould Platform (Microsoft Azure and IBM Bluemix). Added is support IoT Cloud Management Software.
ICP Electronics Australia - www.icp-australia.com.au