INTEGRATED CIRCUIT FOR POWER-OVER-ETHERNET SYSTEMS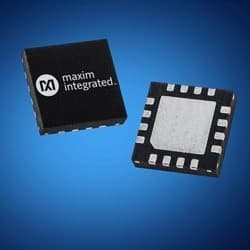 Mouser Electronics now stocks the MAX5995B power management integrated circuit from Maxim Integrated, which provides a complete interface for a powered device to comply with the IEEE 802.3af/at/bt standard in a power-over-ethernet system.
It provides the device with a detection signature, classification signature and an integrated isolation power switch with startup inrush current control. It supports a multi-event classification method as specified in the IEEE 802.3bt standard, and provides a signal to indicate from Type 1 to Type 4 power sourcing equipment. It also provides a power-good signal, two-step current limit and foldback control, and over-temperature protection.
The MAX5995B features an intelligent maintain power signature function, ultra-low-power sleep mode, an input undervoltage lockout with wide hysteresis, and a long de-glitch time to compensate for twisted pair cable resistive drop and to assure glitch-free transition during power-on/-off conditions.
It is available in a 16-pin, 5 × 5 mm TQFN power package with an operating temperature range of -40 to 85°C. It is ideal for VOIP phones, IP security cameras, wireless access points, small cell and picocell base stations, lighting and building automation.
Mouser Electronics
+852 3756 4700
au.mouser.com