INSURERS FALL AS STORMS LASH EAST COAST BUT ASX SHARES CLOSE HIGHER
07-06-2016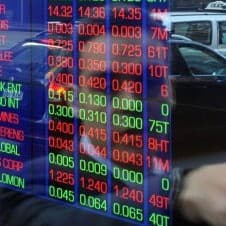 As rising iron ore and gold prices boot mining stock, the Australian shares have closed at a high. Insurers however, were amongst the losers after the powerful storms this past week.
The All Ordinaries Index rose 0.7 per cent to close at 5,431 and the ASX 200 Index added 0.8 per cent to finish on 5,360.
Gold has hit a two-week high after a rate increase by the US Federal Reserve dimmed.
St Barbara surged 15.3 per cent to $3.02, posting the second biggest gain on the ASX 200, while Newcrest Mining climbed 11.6 per cent to $22.06, its highest price since March 2013.
Spot gold traded lower at $US1,241 an ounce.
The Commonwealth Bank held a 1.1 %jump to $76.60, while ANZ went down 0.5 per cent to $24.96.
The big insurers were hit hard because of the storms that battered the coastal areas of Sydney.
Insurance Australia Group was among one of those hit with loss, down 2.2% to $5.72, while Suncorp fared little better, down 1.7 per cent to $12.56.
The dollar was lower against the greenback, at 4:40pm AEST it was buying 73.3 US cents.
Against other major currencies, it was fetching 64.6 euro cents, 78.4 Japanese yen and 51 British pence.
In commodity trade, oil prices were slightly higher with Brent crude up more than 0.7 per cent to $US50.02 a barrel.