INSPIRING AND RECOGNISING SCIENCE AND TECHNOLOGY
18-04-2019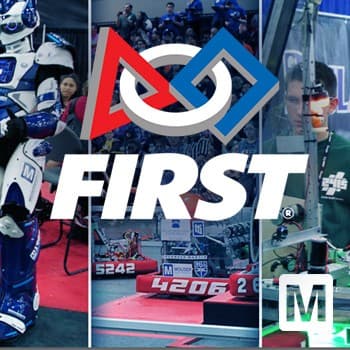 For many years, Mouser Electronics has been a major supporter of FIRST (For Inspiration and Recognition of Science and Technology), the world's leading non-profit advancing science, technology, engineering and mathematics (STEM) among schoolchildren.
This year, nearly 100,000 students on 3790 teams from around the world are competing in 173 local and regional competitions for a chance to advance to the one of the two 4-day international championship events in Houston and Detroit in mid-to-late April. 142 teams from Australia are taking part, and the two regional events in Australia also included teams from China, Taiwan, Hawaii, India, Indonesia, New Zealand, Singapore, South Africa and Vietnam.
Mouser sponsors competitions at the local, regional and international levels and donates components. Each team receives a kit of parts, including motors, batteries, a control system, a PC and a mix of automation components, with no instructions. They have six weeks to transform their kits into working robots designed to perform specific tasks.
Mouser also sponsors the FIRST Robotics Competition Hall of Fame exhibit. This honours the teams that win the esteemed Chairman's Award by best exemplifying the goals and values of the competition: "gracious professionalism", which encourages high-quality work, emphasises the value of others, and respects individuals and the community, and "coopertition", displaying unqualified kindness and respect in the face of fierce competition. These are expressed through the core values of discovery, innovation, impact, inclusion, teamwork and fun.
"Education, particularly STEM education, is at the core of Mouser's mission, going back to our founding 55 years ago," says Mouser Senior Vice President of Marketing Kevin Hess. "The FIRST Robotics Competition provides students with a platform for innovation, a chance to solve real engineering challenges, and an opportunity to build character and self-esteem. We are very proud to again sponsor this exciting and enriching event."
Accomplished inventor Dean Kamen founded FIRST in 1989 to inspire an appreciation of science and technology in young people through accessible, innovative programs building self-confidence, knowledge and life skills. LEGO teamed up with FIRST in 1998.
FIRST now comprises four competitions for different school and age levels: FIRST LEGO League Jr for grades K-4, FIRST LEGO League for grades 4-8, FIRST Tech Challenge for grades 7-12 and the major FIRST Robotics Competition for grades 9-12.
For the 2019-2020 season, LEGO has released two new, exclusive architecture-themed sets, which can be pre-ordered now and will be available around the world in August 2019.
Mouser Electronics
+852 3756 4700
au.mouser.com