INSPECTION REGIME KEEPS WATCH OVER WIRE ROPE SAFETY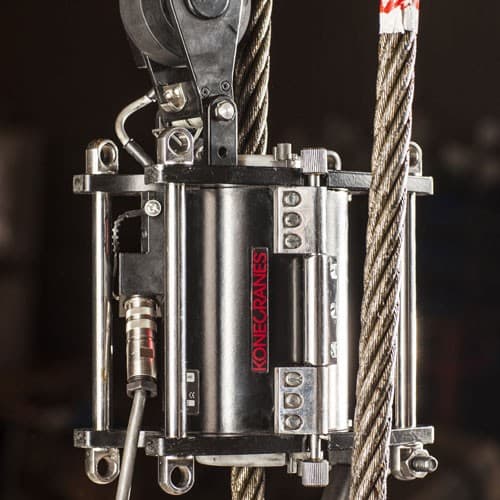 The integrity of the wire ropes used in hoisting applications is crucial to safety. These ropes are regularly subjected to corrosion, tension and abrasion, all of which can weaken the wires and core of the rope. So regular inspection is essential for safety assurance and to enable replacement before dangerous situations occur.
However, some types of damage are internal to the rope, and so almost impossible to detect by a visual inspection. For example, rotation-resistant ropes are prone to internal wire breaks caused by stress.
In marine applications, such as ship-to-shore cranes, internal corrosion can be the problem. Rainwater will gradually penetrate the rope and corrodes it from within. Worse still, the lubrication added to protect the surface of the rope will actually lock the moisture inside and compound the problem.
The answer to seeing this internal damage is a Konecranes RopeQ inspection regime. This combines a regular visual check with magnetic-inductive leakage technology that effectively scans rope's interior. The combination provides a complete non-destructive testing regime for the whole of the rope.
The inspection also covers the rest of the rope reeving system, including rope fixings, rope drums, rope guides, sheaves and anything that has an effect on rope life and reliability.
A regular RopeQ inspection regime allows Konecranes to log data to form a trend line over the rate of wire breaks forming, thereby enabling predictive replacement. This, in turn, will reduce equipment downtime and cut maintenance costs.
RopeQ inspections are also recommended for safety checks after an accident.
Konecranes
1300 937 637
www.konecranes.com.au