Safety in the Workplace, Product News, Cranes
Published 08-06-2021
| Article appears in June 2021 Issue
Inspect your lifting gear before the rush, says Konecranes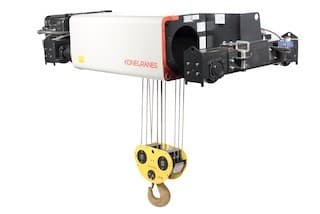 As industry prepares for recovery from supply chain disruption caused by the pandemic, companies face the prospect of rapidly expanding demand on lifting equipment vital to their business.
One of the key areas where ongoing safety and reliability will need particular attention as production and distribution ramps up is with specialist lifting equipment, such as hazardous environment cranes and hoists, says the world's largest provider of crane maintenance services, Konecranes.
"Some of this specialist technology may have lain idle or have been subjected to intermittent or lesser loads than usual over the past year or so. But now it may be subjected to greater loads than ever, as operators catch up with new production when the economic tide begins to turn.
"In the interests of safety and reliability, therefore, now would be the best time to focus on such specialist technology by undertaking inspections and maintenance before a wave of greater demand arrives to put pressure on resources," says Mark Beckwith, Operations Manager, Konecranes and Demag Pty Ltd (a member of the Konecranes Group).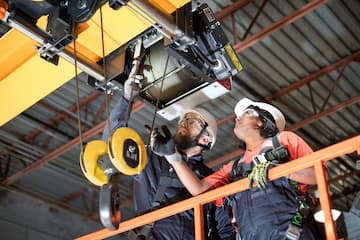 Konecranes has more than 600,000 items of lifting equipment of all brands under service contract worldwide. It manufactures a broad range of cranes and hoists specifically designed and certified for hazardous environments.
Its cranes include EX types for operating in potentially explosive atmospheres. These environments include those encountered in industries such as chemical plants serving major industries, such as agriculture and food and beverage processing, and petrochemical plants, oil refineries, ports, transport and logistics, mining plants, gas power plants, recycling plants, co-generation plants, wastewater treatment plants, automotive and other paint shops and industrial sites that may be subject to vapours, gas, dust and volatile environments.
Konecranes provides specialised maintenance services and spare parts for all types of EX proof products used in such environments – from a single piece of equipment to entire operations. The group also provides modernisation services for all types of cranes – hazardous environment and others – to raise operational productivity and profitability by assisting operators of upgraded equipment to decrease maintenance costs and control capital expenditures in highly competitive industries.
"If you haven't looked into crane modernisation generally, you'll likely be surprised by the range of safety and productivity enhancements possible through updating older cranes," says Mr Beckwith.
"But operating in explosive atmospheres particularly means there are different needs for lifting equipment, ranging from standard products to highly advanced solutions. Because of this, we have designed our products and services to be optimised for specific and often unique lifting requirements.
"All crane components are selected to improve the high level of safety required for the hazardous atmospheres and assurance of compliance. Quality is especially important in hazardous environments, where safety and efficiency are key."