INSERTS GET A GRIP TO HOLD WORKPIECES STEADY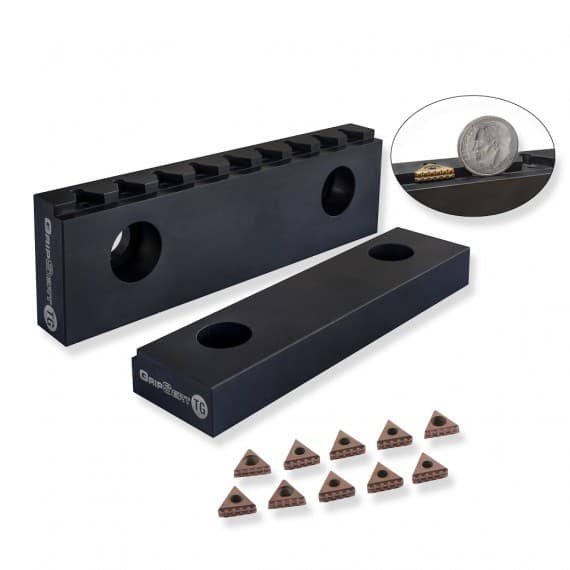 TG GripSerts are the latest additions to the range of workholding grippers from Michigan-based Fairlane. Fairlane grippers, available in Australia from Dimac Tooling, grip and penetrate the workpiece to provide superior holding power.
Used in jigs, fixtures and chuck jaws, these grippers are highly versatile and feature replaceable wear surfaces that extend the life of expensive clamping mechanisms.
The TG GripSerts grippers offer many advantages over traditional clamping systems including exceptional clamping stability and vibration dampening.
"There is no need for premachining or dovetailing workpieces, which allows for very secure holding at lower clamping forces to avoid deforming the workpiece. This results in both a higher cutting rate and less material waste than traditional clamping systems," said Dimac's Managing Director Paul Fowler.
"With only 3.5mm of clamp surface needed to securely hold the workpiece, TG GripSerts workholding grippers are ideal for 5-axis machining operations," Fowler added.
The geometry of the grippers causes the TG GripSerts to create a pull-down effect that prevents any lifting of the workpiece while clamping. The durable inserts combine tough-coated cemented carbide with specialised teeth and triangular shapes that penetrate different workpiece materials. (Different GripSerts are available to grip specific materials, including steel, hardened steel, titanium and aluminium.)
A retrofit jaw set allows operators to use TG GripSerts and snap-in parallels on 6in vices.
Dimac Tooling
03 9771 6121
dimac.com.au