INNOVATIVE TECHNOLOGY HELPS TO IMPROVE WORKPLACE SAFETY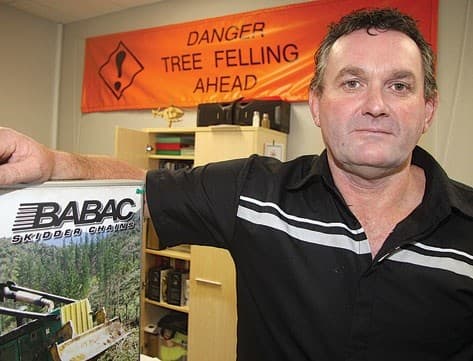 By Mark Partridge
Industrial industries like forestry and mining are being transformed due to new and improved health and safety measures being put into place.
These innovative bosses are using technology to transform the lives of their workforce preventing the accidents that were once rife in their industry.
Forestry
There have been more than 160 deaths over the past three years in the Australian and New Zealand forestry, agriculture and fishing industries.
A ground-breaking court case in New Zealand recently took place where forestry boss, Paul Robert Burr was found not-guilty for the manslaughter of Lincoln Kidd.
In December 2013, Paul Robert Burr was operating a tree felling machine on a Horowhenua forestry block, and failed to notice that Lincoln Kidd was standing close to him at the time. This broke the "cardinal rule" of forestry according to The Crown by not observing the two-tree lengths rule.
A report on TVNZ's Seven Sharp featured Dale Ewers, a forestry boss, who wants to see changes in his industry, not just for his own firm but the entire industry.
"Eventually, we want to get that to another point where they're not even in a cab on the hill where there's any risk. They're inside our office," Mr Ewers said.
One concern that often comes to mind when machines replace men is the risk to jobs. Instead of losing their jobs the people working for Dale Ewers have been moved into the factory where they help to build the equipment. 
Ten people die every year in Australian mines. Most of these deaths are due to collisions caused by tired drivers.
Mines are being made safer through the use of innovative technology advances. Some of these technological developments have been brought to the Australian mining industry from aviation and overseas mines.
Examples include:
·       The Hexagon Mining SAFEMINE
This is an eye scanner from Switzerland that is the leader in Collision Avoidance and Fatigue Monitoring systems. SAFEMINE has helped to prevent injuries and save lives. Graeme Corbett from Hexagon Mining: "The infra-red sensor technology will tell you when your eyes are open, when your eyes are closed, how long they're open for and how long they're closed."
·       Electromagnetic Fields
The Strata Mine Awareness Platform (M.A.P.) is a revolutionary system that not only meets mining safety standards, but exceeds them.
The system has not only improved safety standards in mining but has helped to increase efficiency and productivity.
·       Fall Arrest Platform
DM Civil Contractors in Perth designed and fabricated a portable platform that is capable of holding 100kg of tools and equipment and three people. The Fall Arrest Platform has helped to reduce the risk of injuries and falls and was a finalist in 2014 Work Safety Awards.
Emphasis on health & safety in 2016
Good health & safety management is essential. As an employer in the industrial industries, you will already be aware that it is your obligation to ensure a safe working environment. Prevention is the best approach to Occupational Safety and Health, which can be achieved by:
·       Ensuring staff are fully trained in all aspects of their job
·       Risk assessment
·       Using technology to help protect your employees
·       Ensuring equipment is maintained properly
·       Ensuring the correct procedures are followed
Health & safety isn't just about being socially responsible and meeting the guidelines laid down by law it is also good for business. By ensuring you have a safe environment for your workers you can:
·       Reduce accident losses
·       Cut absenteeism
·       Improve efficiency
·       Improve the profile of your business
·       Improve employee morale
By putting the safety of your workforce first, you are enabling them to return safely to their families. This allows them to be more efficient and productive at work as their safety is not at risk. The workforce is happy and it's good for business.
Mark Partridge is the Director of Training Course Experts in Perth Western Australia, a Registered Training Organisation that specialises in forklift training and senior first aid training.
View the full list of courses at: training-course-experts.com