INNOVATIVE PROGRAM BRINGS INDUSTRY AND RESEARCHERS TOGETHER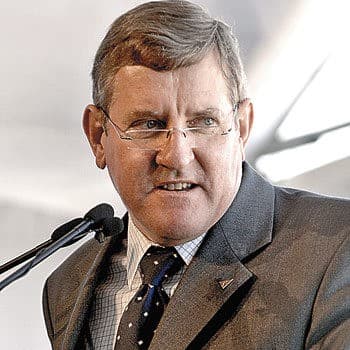 In a world of increasing global competitiveness and customer expectations, Australia is expanding its industry base by making the most of innovation supported by cutting edge science and technology.
It is in Australia's best long-term interests for governments, industry, researchers and academics to work together.
The Australian Government is putting science at the centre of industry to identify and seize new opportunities in this swiftly advancing economy.
A robust and national science policy will underpin a flexible and prosperous economy and help our country capitalise on its strengths.
In the recent Federal Budget, we not only delivered a jobs and small business package worth $5.5 billion, which will encourage growth, investment and employment – but we also reaffirmed our commitment to strengthening the connections between research, science and industry.
The Government announced an extra $70 million in funding for research organisations to support world-class infrastructure that allows science and industry to work together to drive productivity and competitiveness.
We have committed $20.5 million for the Australian Synchrotron, run by Australian Nuclear Science and Technology Organisation (ANSTO), to continue operating in 2016-17.
The Synchtron is a critical piece of landmark scientific infrastructure. It benefits a broad range of industries including mining, health, manufacturing, food security, energy and bio‑security, as well as improving productivity and research commercialisation.
Through the Synchrotron, Australia is contributing to the development of innovative devices and materials for energy production and transport applications.
We also announced an investment of $49.1 million for new infrastructure at ANSTO, including for management of byproducts from expansion of ANSTO's critical nuclear medicine production and the continuation of cutting-edge environmental, health and industrial research.
ANSTO also produces 30 per cent of the world's irradiated silicon, used in applications like fast trains and hybrid cars.
The Government's investment in scientific organisations like ANSTO and important assets such as the Synchrotron will spread the benefits Australia is reaping from science across all sectors of the economy.
These investments are strategic and targeted and will boost Australia's science and research capacity.
They're also important examples of the measures we're taking to safeguard our future competitiveness and ensure Australian industry grows and prospers in the long term.
To assist Australian manufacturers to transition to high-value internationally competitive manufacturing, I have recently announced $40 million in funding for the Cooperative Research Centre for Innovative Manufacturing (IMCRC).
CRCs are a great example of the Government's industry policy and Industry Innovation Competitiveness Agenda in action.
In fact, the agenda and its essential ingredients like the Industry Growth Centres and a number of complementary programs, are all about maximising practical outcomes from our very significant public investment in research.
The CRCs are a very successful way of bringing industry and research organisations together to apply the latest research knowledge to the real world challenges facing industry.
CRCs will work closely with Growth Centres and small and medium enterprises will be assisted by the Government's Entrepreneurs' Infrastructure Program.
The IMCRC will receive the funding over seven years to develop competitive industries in areas of global growth, including additive manufacturing, lightweight robotics and medical devices.
It will work closely with the Advanced Manufacturing Growth Centre to assist Australian manufacturers to transition from traditional manufacturing to knowledge-intensive, internationally-competitive activities.
We also announced that the CRC for Optimising Resource Extraction (CRC ORE) would receive $34.45 million to continue the work it's doing to improve the efficiency of mineral extraction.
The CRC ORE, which has its headquarters in Brisbane, will benefit Australia's mining services sector by helping to recover lower-grade ore deposits in a more cost effective and energy efficient way.
Elsewhere, Industry Growth Centres will help drive the transformation of Australian industry in the food and agribusiness; mining equipment, technology and services; oil, gas and energy resources; and medical technologies and pharmaceuticals sectors.
In addition to these initiatives, the Government will this year continue to further deliver on its national science, technology, engineering and mathematics (STEM) policy, implement new measures to boost the commercial returns from Australia's research and implement National Science and Research Priorities.
The benefits to Australia from greater collaboration between science and industry are clear.
It's all about turning our ideas into advantage and about ensuring science and research work in tandem with industry to deliver a stronger future for Australia.