INNOVATIVE NEW VPN ROUTER FROM TREOTHAM
22-03-2016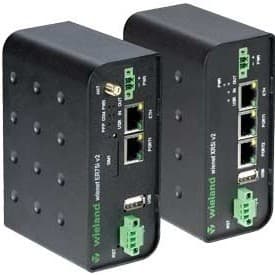 The Wieland Wienet VPN industrial router allows the user to manage the telecontrol, remote maintenance and alarm simply and safely from a distance.
The industrial router allows unlimited M2M communication to ensure increased efficiency and data security.
Whether it's about the control of machines, monitoring of production or the coordination of production areas, communication between devices is imperative for such a complex task. With Wieland's innovative router technology, control commands, level indicators or video signals can now be transmitted.
The routers can be used for many applications, including energy systems such as wind turbines, solar farms, biogas cogeneration systems and heat pumps. They can be used for water and waste water management, and system monitoring in machine building such as washing machines, packaging machines and compressors. They are also suitable for external surveillance cameras, vending, smart metering and mobile fleet management.
The Wieland router is extremely user friendly with the arrangement of ports on the front panel and a standard USB port. It features an extremely robust aluminum housing and DIN top hat rail assembly. It has an operating temperature range of -30°C to 70°C and supports all popular mobile systems.
The router will always access the fasted available connection with wienet and offers download speeds of up to 100 Mbit/s and upload speeds of up to 50 Mbit/s.
It is ideal for industrial use in conjunction with VPN-service portals, such as Wie-Service24.
The devices are also available with a second SIM card slot, additional I/O, RS-232, RS-422/RS-485, M-Bus, second Ethernet interface, WiFi module or integrated 3 port switch.
Treotham Automation Pty Ltd
02 9907 1788