INNOVATIVE ACCESSORIES FOR WELDING TABLES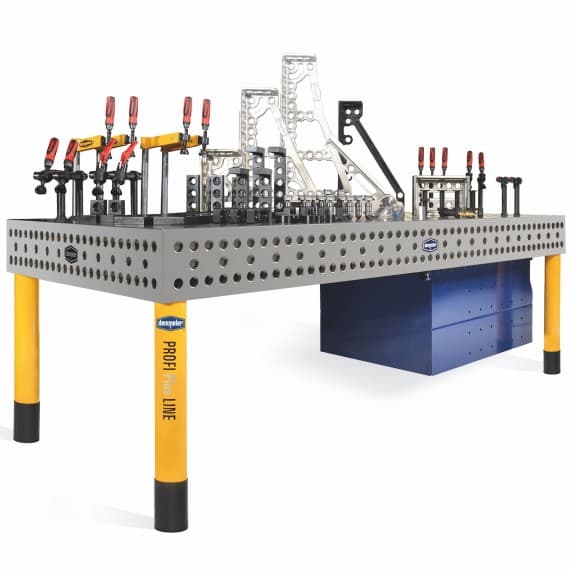 Leussink Engineering, the exclusive Australian distributor of German manufacturer Demmeler's 3D welding table, has expanded its range of accessories, with new lightweight angles, PPC bolts and quick-release clamps adding to the versatility of the Demmeler system. Demmeler developed its 3D clamping system in the 1990s and it's gone on to become an international industrial standard due to its many possible applications and combinations.
The new range of angles allows users to expand the working area of the Demmeler table, both up and out, making it easier to set up jigs or weld larger items. The range includes four models in different sizes that are made of a combination of aluminium and titanium, which makes them light but very strong.
"The new aluminium/titanium Demmeler angles weigh only a third of similar angles made from steel," Leussink Account Manager Russell Brinkworth says. "So a user is lifting only 12kg instead of 35, which makes a huge difference to the function of the Demmeler table.
"As well as extending the working surface of the Demmeler table, the angles also act as a stop and allow the user to secure workpieces at 90°. The 50mm borehole grid make the angles easy to handle and move into place for accurate work, and the kidney-shaped 90° system groove makes continuous angle adjustment possible."
The PPC bolts are self-centring, force-locked and low-wear clamping solutions. Manufactured from high-quality hardened steel, they are extremely robust. The locking mechanism for the new PPC bolts employs a cone instead of the usual ball system, which provides more force but less wear and tear due to its polygon shape. The force is also evenly distributed.
"Our other Demmeler bolts are also high precision, but these new PPC bolts are next level," Brinkworth explains. "They are very easy and quick to clamp and unclamp. When used with the Demmeler power screwdriver with quick-change coupling, they are 10 times faster than conventional for both inserting and tightening, and loosening and pulling, with just one hand, leaving your other hand free to hold or move your work. They also have a low susceptibility to dirt due to the O-ring."
The two quick-release clamps with a ratchet are five times faster for clamping than conventional clamps, saving valuable workshop time. They also provide higher clamping forces quickly with little expenditure of energy.
These three new products complement Demmeler's existing extensive range of clamps, bolts, angles and many more, and are compatible with the Demmeler table system, including the hardened range.
"The Demmeler 3D workbench and welding table is a versatile jig and fixtures system for all types of welding and fabrication work," Brinkworth says. "Projects such as steel construction, sheet metal processing, robot technology, assembly and measuring equipment, laser welding, laser cutting, prototype construction, body construction and many others can be set up easily and precisely. It can meet all horizontal and vertical requirements.
"At Leussink we don't just sell tables and walk away. We work with our clients to make sure the Demmeler 3D table system works for them by providing onsite visits and follow-ups. Through our knowledge and decades of experience, Leussink is able to create welding and fixturing solutions for the Australian market that stand the test of time. We work with our clients to capitalise on efficiencies and productivity, without compromising quality and accuracy."
Leussink Engineering
02 4260 7777
www.leussink.com.au/