Innovation in the circular world
31-08-2010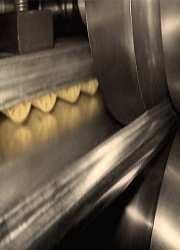 Roll form solutions is well known for roll forming process. The process of roll forming is continuous operation which involves in the preparation of sheets, strips or any other coiled material to bend and shape into different forms with equal shapes throughout the sheet.
It involves feeding the metal or the sheet in between two successive pair toll steel that would shape the metal or roll into the expected shape. The sheets would be rolled into number of times based on the requirement. In this process the metal thickness remain same while undergoing through the rolls.
Adequate care should be taken during the process of designing to result in smooth transition and prevent the unnecessary blemishes in the finished product.
Roll form solutions has been excellent in providing the best products. Roll forming process is not new process.
The age of roll forming process is more than one thousand years. The Egyptians and Indians of Aztecs can be named as the initiators of roll forming process.
They used to cut the profiles into circular shaped stones and used to roll gold or silver to create best rolls in the desired shapes.
The roll form solutions have introduced several techniques in the process of roll forming. The modernization of roll form has begun in the early 90's and resulted in several changes. The roll form solutions have been a great success in the preparation of doors, moldings and trim within a short span of time efficiently.
The industry expanded quickly trending across the globe.
The process of rollforming is very much affordable and the process involves huge quantities of coil or metal sheet. The production cost has decreased with the advanced techniques and several innovations. The speed of the machines and the quantity production has greatly progressed over the decades.
The operators required for manufacturing also decreased with increased technology thereby minimizing the labor cost. Roll form solutions has emerged as one of the best roll forming process companies producing all kinds ductile materials such as both hot and cold rolled steel, plated, polished, copper, stainless steel and so on.
The roll form solutions are the most trusted for the best ever rolls of any kind of material that is desired by a customer. It has redefined the meaning for innovation, trust and speed.