INNOVATION AWARD FOR ENGINE FILTER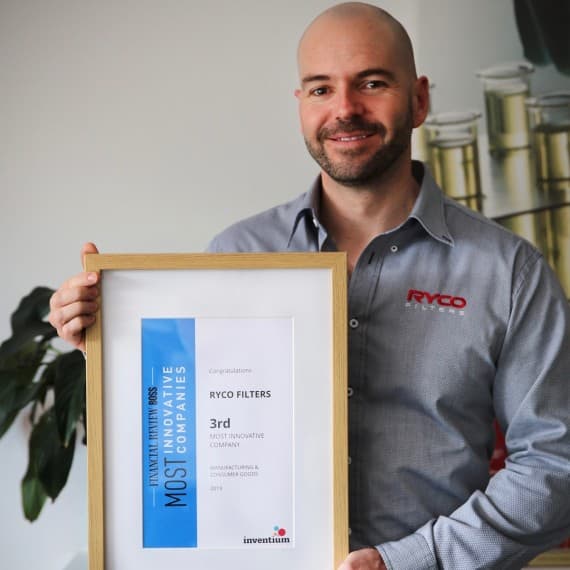 Alastair Hampton, Ryco Filters: "The trade clearly required an innovative solution"
Ryco Filters has been named one of the top 10 Most Innovative Companies and third in the Manufacturing and Consumer Goods category in the 2019 Australian Financial Review/Boss Magazine Most Innovative Companies Awards, in recognition of the research, development and successful market launch of its new RCC350 crankcase filter.
"The company was excited to take the third in category win against some very big names especially as there were more than 800 entries from Australia and New Zealand," Ryco Filters General Manager Engineering and Innovation Alastair Hampton says. "The outcome is a win for our customers and a great compliment to the professional approach Ryco Filters takes in the development of new and innovative products that lead the market."
The Ryco product development team had identified concern in the market about crankcase emissions contaminating an engine's air intake system and setting on the system's inside walls, preventing the engine from 'breathing' properly and resulting in a reduction in engine power and an increase in fuel consumption and expensive maintenance.
"Using our close relationship with trade customers who could articulate the issue through specialist forums, one-on-one discussions and from careful observation on what was happening in the market, especially in the 4X4 diesel area, we uncovered several existing solutions which were either illegal or were completely ineffective and complex," Hampton says. "The trade clearly required an innovative solution that was easy to fit to a wide range of vehicles that offered effective filtration of these harmful gasses along with large capacity storage."
The team set about designing a filter system that connects to an engine's crankcase emissions system, allowing harmful engine gases to flow through to a specially designed filter. This traps the contaminants such as fine oil droplets and coalesces them into larger droplets that then fall into a special storage sump for safe disposal.
The final product is constructed using a high-temperature-resistant engineering polymer housing that contains the special filter media and valves to manage the internal gas pressure and flow. To meet the widest possible range of vehicle applications, four different housing orientations are used to fit various engine bays, and a specially designed mounting bracket facilitates the easy removal of the unit for inspection and servicing. A drain tap is included for easy draining or an optional drain tube can be added with a secondary tap if a remote drain option is required by the customer.
The product exceeds the stringent technical and design specifications established by the Ryco team, and from the launch of this innovative filter the feedback from customers has been overwhelming, with comments such as "easy to fit", "offers highest efficiency", "has good storage capacity" and "robust".
Ryco Group
03 9243 3333
www.rycofilters.com.au/