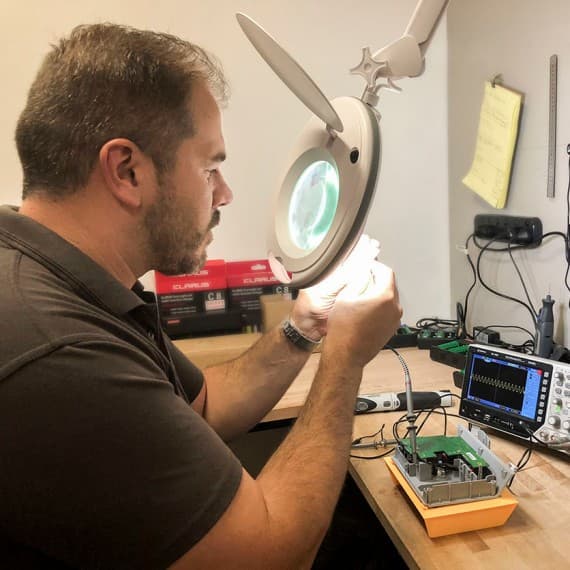 Igor Kazagrandi, Founder and CEO of Vanguard Wireless, examines the importance of new product development (NPD).
In Australia, the Work Health and Safety Regulation 2017 stipulates that a person conducting a business or undertaking must ensure that an emergency plan is prepared for the workplace and have systems in place to provide workers with an effective means of communication with key personnel.
In accordance with the regulation, the emergency plan must outline what an effective response is, how the business should handle the emergency, and how notifications about those emergencies should be conveyed between workers on site and first aiders or fire wardens.
It needs to cover the business' emergency procedures, how those procedures are tested, documented and how personnel are trained on those procedures ongoing.
Vanguard Wireless designs and manufactures safety alert systems that assist businesses to refine their emergency plan. Typically, a safety alert system is made up of evacuation or nurse call devices, or a combination of the two. Evacuation devices are used when a full or partial site evacuation needs to occur quickly, such as a gas leak, or structural issue. Nurse call devices are used in a medical emergency, when one or more people are injured and require urgent assistance.
However, a common problem with older safety alert system designs is that they use operating systems from alarm/fire control panels and require a fair amount of specialist management and maintenance. They also tend to work on a "press and guess" approach; there's a high level of assumption that when an alert needs to be raised, the device has power and is connected. There's little to no visibility on the status of the system in real time. But in a time of crisis that's not good enough.
I don't understand how users of other systems can be content with little to no visibility on their system status and assume it will work when they need it to work. It's a dangerous assumption.
This is why we're determined to disrupt the safety industry. Every industry is moving to be more automated and embrace what can be achieved with the Internet of Things (IoT). I think any business that isn't taking advantage of this opportunity, isn't innovating.
Disruptive companies leverage breakthroughs in cloud, mobile, social, and artificial intelligence technology to deliver personalised, valuable, and immediate experiences. Customers have more choices than ever. As a result, they grow to expect this superior experience from any business they engage with.
For Vanguard Wireless this means a focus on third party hardware and software integrations, digitisation, data analytics and technical transformations. The company has a rapid innovation and continuous improvement mindset, with much of the new product development focused on customer solutions. Customer frustrations with what's been available to them in the past feed into Vanguard Wireless' NPD, which are then addressed by their products and services.
How important is NPD?
New product development (NPD) for any business is imperative to ensure the business doesn't just survive but thrive. NPD is about adding new value for customers by addressing their challenges with solutions to improve their processes and profitability. It typically requires considerable resources, an allowance for mistakes, and an understanding by early adopters that the result is worth the wait.
We're all walking around with a powerful computer in our pocket, and as part of your business NPD you must take that into account. You must look at innovations that deliver customer centric solutions to improve visibility and accountability.
As of Q4 2019, Android users were able to choose between 2.57 million apps, and Apple users had access to almost 1.84 million.
It's now at the point where we believe there's an app to help undertake and complete virtually any task. We expect integration, personalisation, and innovation. If we don't get it from a brand, product or service then we move on and we rarely come back.
This is why Vanguard Wireless has developed an app for its customers. It has also been exploring how to incorporate cellular technology into its NPD.
Our customers were seeking flexibility, so we created our own app that allows their key personnel to manage the system from their phone. This also adds an element of defensibility to our overall offering as we're not just a hardware company.
We're launching new features that allow users to trigger a nurse call or mass evacuation event from their phones. We believe this is where we should be heading with regards to NPD. Creating a sticky product experience leads to retention and advocacy.
When you consider how to approach NPD as a business, it helps to consider how your industry is situated as a whole. Do customers and prospects have frustrations that you could address? Is your industry ripe for disruption? Is your business in a position to be disruptive? A good way to determine this is to request feedback from your customers.
Focus on what's important to your customer
To address our customer's challenges, we've also incorporated IoT devices, digitisation, data analytics, and technical transformations into our NPD. We've developed solutions that integrate with enterprise business systems. We've also placed a high importance on delivering real time visibility to reduce costs and improve accountability.
A big component of NPD is customer feedback and using it to solve customer frustrations and challenges.
Our most recent product developments feature cellular connectivity. This was a direct response to customers who were experiencing issues with range or obstructions on site that our existing product range couldn't solve. We looked at what technology was available to us in the market, found nothing, so developed our own.
We believe this is a world first which will transform how some businesses approach safety. Our next focus is on wearables that solve unique customer challenges with regards to employee notifications and response management.
Your sales and product teams should work collaboratively to collect customer feedback which can be used to generate insights such as customer pain points and the features/functionalities customers care most about. This will help you prioritise your product roadmap and assign a budget accordingly.
The benefits of consistent NPD
The obvious benefit of adopting a customer-first innovation mindset is improved customer retention. But there are other benefits that also offset your investment in NPD.
It's thought that roughly two-thirds of customers will pay a premium to businesses that offer superior experiences. In a price-conscious world where sales can sometimes mean a race to the bottom, demonstrating that your business is focused on growth presents customers with added value.
NPD can also assist to grow your business because you'll be perceived as a "cutting edge" organisation. People favour connections to innovators and experts. B2B and B2C networks have a chance to grow as your business' reputation as an innovator grows.
From an internal perspective, if you focus on NPD you create a culture of innovation. This not only assists to capture greater market share for your brand or business, but it also helps to attract and retain staff who are inquisitive, creative, passionate and loyal.
The NPD process for an electrical product (or any product) can be arduous, particularly for businesses with limited resources or access to the right product development teams. However, it's imperative that your business is focusing on it because you can be certain your customers are.
Igor Kazagrandi is CEO of Vanguard Wireless.