INNER-SUBURBAN CONCRETE PLANT MINIMISES NOISE AND DUST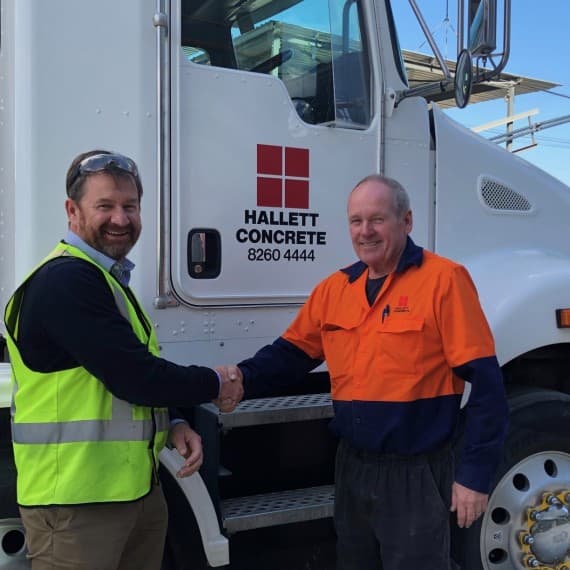 Andy Jordan, Hallett Concrete and Saul Weste, SMC Pneumatics
Since 1978, Hallett Concrete has become Adelaide's leading independent supplier servicing the domestic, commercial and industrial markets, specialising in supply to the technically demanding pre-cast market, for which South Australia is highly regarded.
With six fixed concrete plants, two self-contained mobile batch plants and with over 75 trucks for concrete and 30 for cement, aggregate and sand supply, Hallett Concrete has made its mark on the local construction industry. Increased housing development, mostly residential developments requiring a fast turnaround time for loads, has seen the company expand its operations to include a new plant servicing the city area.
"Hallett Concrete has long been at the leading edge of sustainability in our field and we are always trying to further our innovation and utilise as many recycled and by-products as possible," says Hallett Concrete Project Manager Andy Jordan. "From our use of by-products including fly-ash and quarry sand, our runoff water catchment process and our recycling business, we cover a wide range of recycling and sustainability methods which cannot be matched by anyone else in South Australia, so we were up for the challenge of designing a plant for a rather unusual location for our newest flagship plant – Mile End. This challenge was taken up successfully by CMQ Engineering in Queensland who we commissioned to design and build for us."
Jordan has been with the company for 34 years and has been involved in the setup of all of Hallett's plants. He says the inner-suburban Mile End project, which was completed in March, is world class, and incorporates innovative solutions to make sure it integrates seamlessly into the sensitive surrounding area.
The plant shares a site with a collection of unlikely neighbours, including a chocolate producer, a milk plant and various new car dealerships.
"We knew from the very beginning we were in a very sensitive area and we approached the EPA to ensure we do everything we can to ensure a smooth integration into the area," Jordan says.
Using galvanised steel and Colorbond materials, the structure blends into its surroundings, and noise and dust are minimised by containing the operations most likely to produce them within an enclosed warehouse.
Trucks pull into the warehouse through curtain doors that open and shut automatically. The stone and sand are offloaded into underground bins and immediately transported to the next station, where they are sorted into seven different bins by product type. All of this is done via conveyors: the materials stay on the conveyor and are weighed using a weigh belt system, which is another groundbreaking innovation in this field.
"In this plant there is no dropping of product into big steel bins," says Jordan. "The weigh belts are a new innovation and one of the first in Australia. It is really efficient in that you can weigh products from all seven different bins at the same time."
The plant features a wet mixer, one of the first of its kind in Australia.
"Wet mixers are very popular as they ensure the concrete is made with the perfect recipe," says Jordan. "Each batch is tested before it leaves the plant, so the building contractor can be assured they are getting exactly the right product for their application."
The plant is filled with smart automation and there are plans to a work towards unloading 24/7 in the near future through the implementation of a new QR system.
The plant operates with minimal operator involvement with everything being run and monitored from the control room. More than 40 cameras have been installed and at any time Jordan and the team can log into an app on their smartphones to see live footage of what is happening in the plant. Adjustments can be made remotely via the system.
"The plant has been set up intelligently with the future in mind," Jordan says. "We are always thinking about the next step. Currently the construction industry in South Australia is thriving especially around Adelaide city. We foresee demand for 24-hour loading in high traffic areas which would benefit from night works. When this happens, we will be ready."
SMC Pneumatics was chosen as the pneumatic supplier after many years of longstanding relationships with other suppliers. According to Jordan, the stock holding and convenient location and servicing from the SMC team can't be beat. Furthermore, as an ISO plant, the stock of ISO products was very important, and SMC has this covered. The SMC products have the smarts to allow for future Industry 4.0 system integration if needed.
SMC Pneumatics Area Sales Manager Saul Weste says that SMC was honoured to be chosen as the new partner for this project and that it looks forward to growing a mutually rewarding relationship with Hallett Concrete.
SMC Pneumatics
02 9354 8666
www.smcanz.com