INKJET UPGRADE BOOSTS LABEL PRINTING OPERATION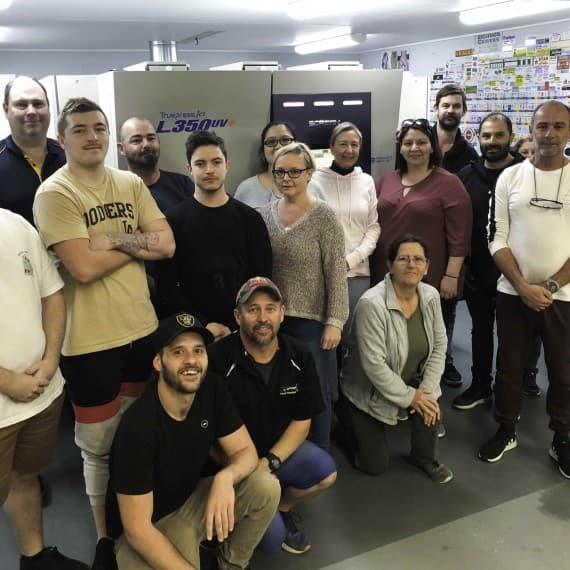 Jet Technologies has helped NSW Central Coast-based SL&CS Promotions to upgrade to a new UV inkjet printing press to help future proof the business.
SL&CS has run a UV inkjet printing press for a number of years to print labels and tags - such as industrial stickers, electrical test tags, and promotional labels – for businesses across Australia.
However, in search of improvements to printing speed, reliability and quality, the company resolved to update its printing press, and it chose to work with Jet Technologies and Screen GP thanks to the companies' provision of local support, future product developments and proven installation experience.
"Shane at SL&CS got the whole production team involved in the process of evaluating the printing solutions available with Jet Technologies and Screen GP, as it was important that an investment was made in the option that worked not just for the business, but most importantly for those on the ground operating the printer," says David Reece, Sales Director, Jet Technologies. "SL&CS chose the Screen Truepress Jet L350UV inkjet label press."
The L350UV is recognised as one of the world's leading inkjet presses for narrow web, with printing speeds of 60m/min, the ability to run a wide variety of existing and new materials from 10 to 350mm widths, durability and light-fastness of the inks, and the very high print quality.
"Jet Technologies and Screen GP couldn't have been more helpful. Their attention to detail from the trialling phase right through to installation and training, meant the machine was delivered installed, training commenced quickly, and we were producing work for customers within just two weeks," explains Shane Leer, SL&CS Promotions. "It's nice to work with companies that do not over sell and deliver everything that was promised."
Jet Technologies
02 8399 4999
www.jet-ap.com