Industry welcomes ALP move to scrap carbon tax
31-08-2010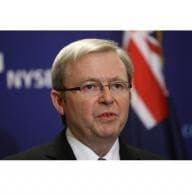 The Australian Industry Group has welcomed the Government's decision to move early to scrap the carbon tax to assist struggling business.
The switch to an emissions trading scheme is a positive move that will cut business costs, said AiGroup Chief Executive Innes Willox.
At the same time, the move would help to achieve emissions targets shared by the major parties.
Earlier this week Prime Minister Kevin Rudd confirmed the carbon tax would move to a floating price on carbon a year earlier than previously planned.
The current tax on carbon of $24.15 was scheduled to move to $25.40 next year, before moving to a floating price the following year (estimated at $10 a tonne or less). But the floating price will now be brought forward to July 1 next year.
Mr Rudd said the decision would "take the cost of living pressures off Australian families and still act on climate change."
Mr Willox said the AiGroup would be looking for more detail following the Prime Minister's announcement.
"But in principle a switch to much lower internationally linked carbon prices next year would be very positive for businesses struggling with high energy prices and lost competitiveness," Mr Willox said.
The earlier move to emissions trading would cut the carbon price by as much as three quarters while not reducing our capacity to meet the objectives of reducing emissions in line with Australia's targets.
"The target, which is backed by both major political parties, is to reduce emissions to 5 per cent below 2000 levels by 2020. This will be met as a result of the quantity of permits issued by the Australian government and this will not be affected by the earlier transition to the emissions trading regime."
Mr Willox said industry has called for an immediate change along those lines and lower carbon prices should be adopted this year and backdated to July 1.
"This is something all sides of politics could support either by floating the carbon price right away, or lowering the fixed price until auctioning can begin. This is a step that is both practical and affordable."
AiGroup research shows that an ETS starting in July 2014 would save business several billion dollars in cost.
Also, energy prices would be lowered both for businesses and for households.
"This would help stimulate the economy at a time when it is struggling to transition from the slowdown in mining investment, Mr Willox said.