Published 10-12-2019
| Article appears in November 2019 Issue
INDUSTRY UPDATE'S CHRISTMAS GIVING GUIDE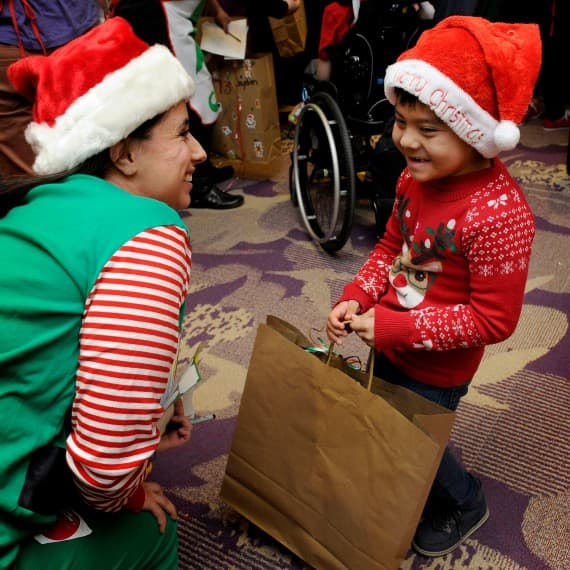 Having replaced the usual gift guide with a giving guide last year, we reasoned that charitable donation was still more worthwhile as a gift than a cheap novelty that will be forgotten when the tinsel comes down. So give generously.
COMBATTING HOMELESSNESS
Mission Australia combats homelessness by helping children, families and individuals achieve long-term stability and independence. It relies on government funding and generous donations from its partners and generous Australians to make a difference in the lives of vulnerable Australians. During 2018 Mission Australia helped 119,185 people combat homelessness.
Donating to Mission Australia's Christmas appeal does much more than just cover a meal and a bed for a night. Donations go towards providing individually tailored support for vulnerable Australians so that they can become independent; in fact 90.3% of its income goes into delivering these critical services that will assist disadvantaged families, children and individuals.
A GIFT OF HAPPINESS
Starlight Children's Foundation's mission is to brighten the lives of sick kids and their families. It looks after the wellbeing of seriously ill children with programmes based on positive psychology principles, specifically developed for the needs of Australian kids and teens.
Starlight's Christmas Appeal asks Australians to become 'Starlight Wishgranters' through donations that give sick kids 'Starlight Wishes'. Starlight Wishes are an incredible, uplifting experience for children and can come in many forms including travel wishes, experience wishes, meeting hero wishes, the list is endless! The wishes bring happiness and hope to the lives of children and their families in tough situations due to illness.
HELP CHILDREN LIVING IN DISADVANTAGE GET AHEAD
The Smith Family helps children living in poverty get access to early learning experiences, resources, and the opportunity to develop basic skills in reading or numeracy so that they aren't left behind. The financial disadvantage experienced by one in six Australian children and young people adversely affects their education and the direction of their lives. The Smith Family is Australia's largest national education-oriented charity that helps disadvantaged children do well at school.
The Smith Family relies on donations from its Christmas appeal to deliver its Learning For Life programmes across 94 Australian communities that have been found to have the highest concentrations of families living in economic disadvantage. You can choose to donate or sponsor a child; a sponsorship will match you with an Australian child in need and provide them with important financial, personal and education support while they are at school.
HAY MATE CONCERT
Rural Aid is putting on a 'Hay Mate' concert for its 2019 Christmas Appeal to support Aussie Farmers. The concert will be held on 15th December at Mornington Racecourse and feature Aussie legends including John Farnham, Daryl Braithwaite, Vanessa Amorosi and Jon Stevens. Proceeds from the concert will support Rural Aid's 'Buy a Bale' programme to help purchase hay, supply water, and give financial assistance to farmers experiencing the hardships of drought.
You can also make a donation on the Rural Aid website to support Rural Aid's mental health counselling programme, Buy a Bale programme or another one of their nationwide initiatives. Rural Aid operates as a focal point for rural communities who are suffering through drought and need help feeding their animals, supporting their families and relieving distress.
CHRISTMAS GIFT-GIVING CAMPAIGN
UnitingCare Australia provides community services to over 2 million Australians each year of different ages and from different backgrounds. Since 1992 it has partnered with Target for its Christmas Appeal, a gift-giving campaign that raises donations and gifts for disadvantaged Australians.
The appeal is launched in all Target stores in early November, in 2016 it raised over $1.2 million and collected over 15,000 gifts. So when doing your Christmas shopping at Target this year, remember to donate a gift to the Christmas Appeal or make a donation at any Target checkout or online.
CRISIS SUPPORT AND SUICIDE PREVENTION SERVICES
Lifeline Australia needs our donations so they can provide the training, equipment and assistance that Crisis Supporters need to save lives and help Australians going through a challenging time over Christmas. Lifeline provides 24/7 crisis support and suicide prevention services; it is a national and widely used service.
Christmas can be a difficult time for some people who are dealing with mental illness, family or relationship issues, isolation, or financial hardship. Lifeline will receive over 28,000 calls over the Christmas period, so donating to the Christmas Lifeline will mean thousands of people can access online, phone and face-to-face crisis support and mental health services.
WORLD VISION
World Vision is working on reducing inequality here in Australia, where Indigenous Australians face health, economic and social challenges due to widespread inequality, discrimination and neglect of their communities' needs. World Vision has successfully implemented community-led programmes in countries around the world from partnering with indigenous communities to help them guide their own development and achieve their own goals.
This Christmas a donation to World Vision Australia will assist in employing local indigenous women to facilitate playgrounds for children and parents, and to invest in a child's future. Other programs help indigenous youth build strong connections to their culture, combat domestic violence and strengthen the leadership capacities of indigenous men and women.