INDUSTRY LEADER RECOGNISED AS ADJUNCT PROFESSOR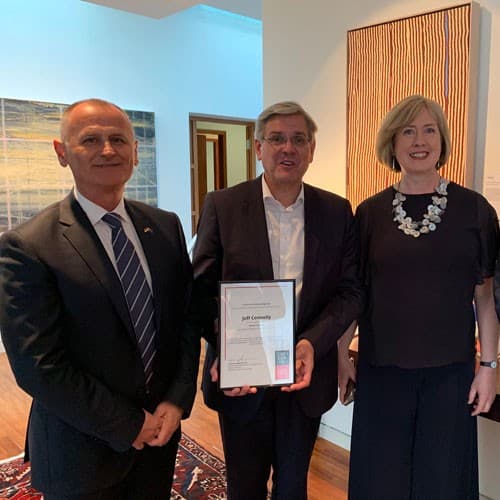 Aleksandar Subic (Swinburne), Jeff Connolly (Siemens) and Lynette Wood (Australia's Ambassador to Germany)
Siemens Australia Chairman and CEO Jeff Connolly has been named as an adjunct professor of Swinburne University of Technology in recognition of his extensive contributions to Industry 4.0 in Australia.
The occasion was celebrated at the Australian Ambassador to Germany's residence in Berlin during a welcome function for Australian business delegations attending Hannover Messe, the largest industrial trade fair in the world.
Swinburne Deputy Vice-Chancellor (Research & Development) Professor Aleksandar Subic presented a certificate to Connolly and said: "This award recognises Jeff's expertise in advanced manufacturing business and his many contributions to driving the Industry 4.0 strategy and industry transformation in Australia.
"No other individual has contributed so much to Australia's journey through the fourth industrial revolution. He is an advocate and thought leader and, as a company, Siemens has invested an incredible amount of time, resources and effort to bring this capability to life across Australia.
"Swinburne is proud to be involved with both Jeff and Siemens as we continue to work together to create economic and social impact through positive industrial transformation."
Connolly said: "Clearly this recognition is acknowledgement of the relevance in Australia of Germany's holistic framework for dealing with the profound societal consequences of the fourth industrial revolution. I am proud to work for a responsible multinational company like Siemens, which - due to its global experience and unquestioned local reputation - is able to articulate the future of electrification, automation and digitalisation in a way that sets a direction for real progress in the country.
"Successfully competing in the future world is all about urgent pursuit of global best practice in both what we do and how we do it. We must be interconnected and enabled by the right tools and the right skills."
Connolly was responsible for establishing and leading the Prime Minister's Industry 4.0 Taskforce in Australia, which is now embedded as a bipartisan group into the Australian Industry Group (Ai Group).
The taskforce's structure adopted the approach of Germany's Plattform Industrie 4.0 Group. It mirrored the approach of key work streams to address areas such as the future of work education and training, research and development, standards, cyber security and Industry 4.0 test laboratories.
Siemens has contributed over $1.5 billion in commercial value through strategic university grants of their advanced industrial product lifecycle management software.
The Australian Government has committed $6 million across six strategic university partnerships to develop Industry 4.0 test laboratories and help Australian small to medium enterprises understand what is possible and to build national Industry 4.0 capability. Universities include Swinburne, the University of Technology Sydney and the Universities of Western Australia, South Australia, Queensland and Tasmania.
A multi-award winning, innovative, vocational learning pilot programme called the Industry 4.0 Apprenticeship programme has been implemented. It is a joint collaboration between Ai Group, Siemens and Swinburne, and has already produced job-ready graduates who are now working in many technology-related fields.