INDUSTRY EXPERTS SHARE ADVICE FOR AN IOT CAREER IN EBOOK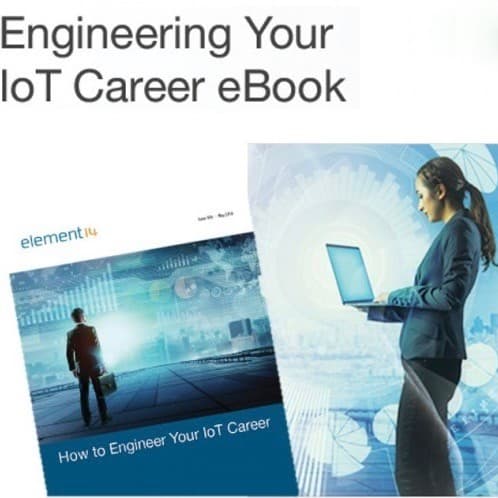 element14.com, the online community for engineers, has launched a new eBook for people looking to pursue a career in the fast-growing world of IoT.
The free, downloadable publication, titled Engineering Your Future: Professional Advice on Pursuing a Career in IoT, collects advice and key insights from industry experts and business leaders representing companies such as Amazon, Eaton, Microsoft and Molex. Featured topics include the different career paths available, the skills and attributes employers look for, and how emerging trends such as machine learning and cloud security are affecting the sector.
The eBook is compiled from insights from a series of webinars hosted on the element14 Community, focusing on professional trends and issues related to the IoT.
"As the world's largest online community for engineers and makers, we're seeing more and more of our members harnessing the power of IoT to shape their careers and pursue new opportunities in the tech space," says Dianne Kibbey, Global Head of Community and Social Media for the element14 Community.
"This new eBook underscores the commitment of the element14 Community alongside element14, the development distributor, to develop the next generation of engineers, and I believe that the unique insight provided by the industry-leading experts we invite onto our webinars makes it an invaluable resource for graduates and experienced tech professionals alike."
It is one of an extensive library available to registered members of the element14 Community, and the webinar series that inspired it can also be accessed.
element14
1300 361 005
au.element14.com