INDUSTRY AND GOVERNMENT TO JOINTLY PRESENT THE FUTURE OF MANUFACTURING
07-05-2018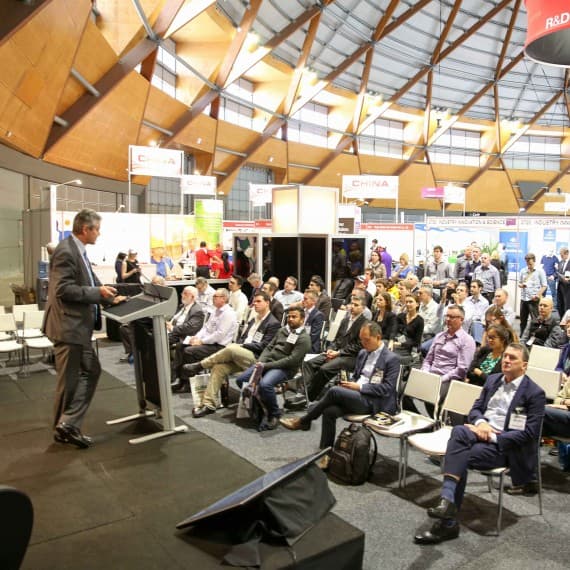 Australia's largest showcase of manufacturing innovation and inspiration, National Manufacturing Week (NMW), returns to Sydney Showground from 9th to 11th May 2018. The three-day event provides an unrivalled opportunity for industry decision-makers to network, collaborate and learn about the next generation of technology and industry growth.
The speaker programme will be split into three theatres including the Industry 4.0 Theatre, Business of Manufacturing Theatre and Safety First Theatre. Visitors will hear from more than 40 industry leaders on the impact of digital transformation, innovative design, and new business practices in the manufacturing industry.
To officially kick-start the speaker programmes, SafeWork NSW will exclusively launch the Manufacturing Work Health and Safety (WHS) Sector Plan 2018-2022 in a VIP-ticketed session as part of the Safety First Theatre. The Honourable Matthew Kean MP, Minister for Innovation and Better Regulation, and Elizabeth Tosti, Director Metropolitan Operations and Sector Initiatives will unveil a crucial new bipartisan agreement to ensure ongoing workplace health and safety.
The Manufacturing WHS Sector Plan 2018-2022 has been developed by SafeWork NSW alongside industry and key sector stakeholders to help manufacturers promote safe work practices, set the highest standards to reduce serious injuries and foster a skilled workforce who look out for each other, and always keep safety 'front of mind'.
Full details on how to register for this session can be found on the National Manufacturing Week 2018 website.
The Business of Manufacturing
The opening day of the Business of Manufacturing Theatre will see Ian Harrison, CEO of the Australian Made Campaign, provide Australian manufacturers with the knowledge and tools to address increasing customer demand for Australian-made products.
Harrison's session will explore the link between Australian made and quality products, benefits of marketing your products as Australian both here and overseas, outline the new eligibility criteria for making 'Made in Australia' claims, and accessing the certification trade mark – the Australian Made kangaroo.
Given Harrison's ambition has been to reposition the Australian Grown logo as Australia's global product symbol during his time at the campaign, he is well placed to discuss the finer policy and industry details with visitors to NMW.
The second day of the speaker programme will see visitors partake in the Australian Manufacturing Forum's "Taking the next step towards a digital business" as part of the Industry 4.0 Theatre.
The forum will be chaired by Peter Roberts, Founder of Australian Manufacturing Forum, and feature five highly distinguished CEOs including David Chuter, CEO and MD of Innovative Manufacturing CRC, Mary Brittain-White, CEO of Retriever Communications, Grant Anderson, CEO of ANCA, Glen Casey, CEO of Transition Group, and Anthony Kittel, CEO of REDARC Electronics.
NMW visitors are also encouraged to head to the "Augmented reality (AR) in manufacturing" session as part of the Industry 4.0 Theatre, to hear from Allan Thompson, PTC Technical Manager of LEAP Australia on using AR technology to enhance the design, manufacturing and in-service stages of products and processes.
Using real LEAP Australia customer stories, Thompson will explain the customer opportunities that integrating AR into the manufacturing processes can provide, from IoT connectivity of machinery and factories, to mine real-time data, through to immediate fault feedback and effective fault remedies for maintenance technicians.
More than 200 exhibitors
The exhibition area will be divided into eleven product zones: advanced materials, additive manufacturing, automation and robotics, electrical, engineering, the industrial Internet of things (IIoT), machine tools, industrial safety, supply chain and logistics, warehousing and materials handling, and welding technology.
Among more than 200 exhibitors from leading companies from around the world exhibiting the latest technology in manufacturing each day in the exhibition area will be 3M Australia, CNC Machinery Sales Australia, Headland Machinery, Renishaw Oceania, Supagas, and Universal Robots.
For these exhibitors, National Manufacturing Week offers a unique opportunity to connect with targeted buyers and decision makers by providing the manufacturing industry with a glimpse into the future by delivering the latest technology, research and development to redefine and grow manufacturing businesses.
NMW will be again colocated with the Safety First Conference & Expo, Australia's one-stop manufacturing safety event, as well as Inside 3D Printing Conference & Expo, the Australian stopover of the world's largest 3D printing event series.
Registrations have now opened for the free-to-attend NMW 2018 for anyone with a professional or commercial interest in manufacturing. To register, visit www.nationalmanufacturingweek.com.au.