INDUSTRIAL LED LINE LIGHT RANGE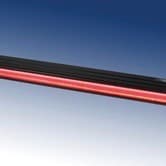 Scitech stocks the acclaimed range of industrial LED lighting for machine vision applications from Swedish company LATAB, as well as controllers to adjust light intensity and maximise the lifetime of the LEDs. These lights can be used for a variety of vision and industrial based applications including inspection, testing and robot control. Customer-specific developments and adaptations are also available to support unique customer needs and applications.
One of its notable product lines is the line light with Fresnal lens, designed for line scan camera applications. It produces a very thin beam of light 4mm wide, and the standard working distance is 40mm. The lengths range from 58 to 788mm, and custom lengths are available on request.
Scitech
03 9480 4999
www.scitech.com.au