Increase output with a customised work station
31-08-2010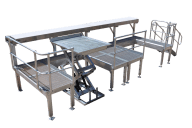 Optimum Handling Solution's custom work station for abattoirs and food processing plants is ideal for operators who constantly sort or pack products onto pallets that are over 1.5m high. 
Optimum's palletising work stations usually consist of an elevated work platform, electric scissor lift tables and a belt top conveyor system.
This provides the ultimate solution for carton/product removal from stillages/conveyors that are to be packed onto pallets in the load out areas.
Scissor lift tables can be primarily implemented within the raised work station allowing the operators to pick product from the crate/stillage/conveyor quickly and efficiently without the constant hazard of bending and stretching that's related to product handling.
The common load-out conveyor system continually feeds the finished products to the packing operator, which picks and loads products onto pallets, which are raised up on Optimum's popular Palevator spring lift unit.
Optimum offers many customised designs to suit your operation.
Contact the Optimum sales team to discuss the options.
Optimum Handling Solutions
Ph: 1800 066 008