INCAT TO BOOST WORKFORCE BY 50 PERCENT TO HANDLE NEW ORDERS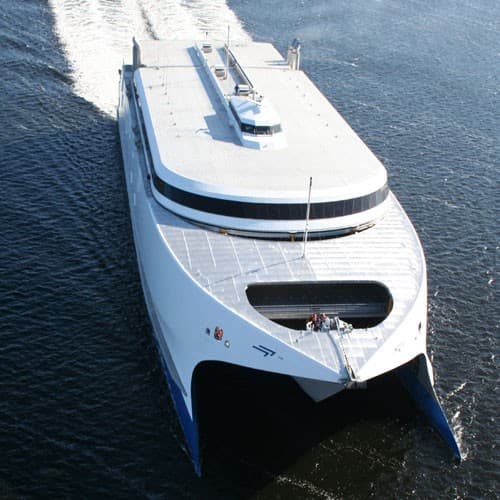 Incat Tasmania will significantly boost its workforce numbers over the next 12 months to complete a spate of major new orders.   
The current staffing level of around 230 is set to increase by at least 50 percent over the next year, with 11 vessels to deliver between December this year and late 2017.
Incat Tasmania's "ramp-up" plan includes a significant number of skilled tradespeople with the intention of taking on apprentices both from the existing workforce and new starters. 
The first intake of welders, fabricators, electricians and trade assistants began last week – most of whom are former employees.
Incat Chairman Robert Clifford said: "I am delighted to see former Incat personnel contacting us keen to work with the Company again, and it is also encouraging to see other skilled workers from a range of industries recently submitting applications to be considered for future employment opportunities."
Mr Clifford said the gradual ramp up would continue over the next six months across trades including welding, fabrication, electrical, fitting and fit-out.
"The incremental increase allows for easier induction and safety training and less disruption to workflow in the shipyard," he said.
The intake will be mainly skilled tradespeople but importantly Incat will be offering apprenticeships to some existing casual staff and also engaging unskilled workers as trade assistants and labourers.  It is anticipated some of these will be offered apprenticeships in the future, providing a much needed boost to Tasmania's manufacturing industry skills base and economy, ensuring a trained and skilled workforce to meet future employment demands.
Revolution Design Pty Ltd, who handle the design and engineering for Incat vessels have also recently increased their staffing levels.  
The multiplier effect is likely to see employment gains also in sub-contract ranks, with many Incat key suppliers also welcoming the news of a solid order book for at least the next two years.
Work at the Hobart shipyard continues on four boats for Sydney company Manly Fast Ferries.
The two 24m ferries due for delivery late December and two 33m boats to head to Sydney in the New Year.
Design work is well underway on six new Sydney Ferries with the first metal not likely to be cut until about March 2016. 
The six commuter ferries will progressively be delivered to Sydney Harbour from late 2016 through 2017.
Work is already underway on a large wavepiercing catamaran for Danish Company Mols Linien, the third Incat vessel for their fleet in four years. 
The KatExpress3 18-month build program should see her leave the shipyard for Denmark at the end of March 2017.
Incat is also a consortium member of the TasPac bid for the Australian Government's Pacific Patrol Boat replacement program. 
The tender award is not due to be announced for another year, but if successful it would mean a 20  vessel order for 39m patrol boats to be built and delivered between 2017 and 2024.