INAUGURAL CeMAT AUSTRALIA ENDS ON A HIGH
12-05-2015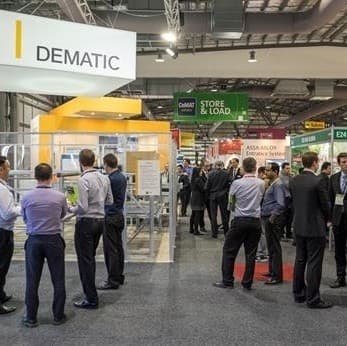 The inaugural CeMAT AUSTRALIA intralogistics and materials handling show ended in Sydney last week with organisers and exhibitors delighted by the positive industry response.
Based on the well-known CeMAT Hannover, CeMAT Australia introduced innovations from across the globe, including visitors from China, Malaysia, India, Korea, Thailand, Taiwan and Japan.
Mr Wolfgang Pech, Senior Vice President Deutsche Messe, owners of the CeMAT brand, said industry should continue to support shows like CeMAT to drive the industry forward.
Exhibitions such as CeMAT provide solutions that not only deliver return on investment, but also improve the safety of employees.
Mr Pech said many of the solutions on the show floor deliver time and cost efficiency but they also made employees' day-to-day work safer and easier.
According to Safe Work Australia one in five injuries in work involved an injury to the back and a typical workers compensation claim includes four weeks absence from work.
"We saw the likes of Dematic demonstrate their new modular goods-to-person (GTP) system, which assists pickers by delivering the products on a conveyer belt for them to pick directly, said Mr Pech.

"Solutions like this mean people don't have to walk to pick orders and bend and lift things off shelves. No heavy lifting required. The implications of this could have a direct result on employee injuries, which every business knows has major impacts on the bottom line."
By taking out some of the physical requirements of this type of work, an ageing workforce could also be more accommodated.
"Not to mention with e-commerce continuing to be a major force and with more jobs focussed on collecting orders, human error also needs to be considered, so slippage is managed. However, systems such as weight sensors, like in Dematic's new modular GTP system, ensure pickers choose the correct number of a product and tells them to check if it detects an anomaly," said Mr Pech.
During the show, industry professionals Kris Lancaster, Logistics Operations Manager and Jeff Cox, Logistics Development Manager both of Foodstuffs South Island New Zealand, revealed how they manage their complex warehouse operations through systems like this and the positives they've experienced from it.
"The theme for CeMAT has been around creating smoother and smarter warehouse systems and how that plays into everyday business operations; these solutions will deliver much revenue on the bottom line," said Mr Pech.
For more information visit: www.cemat.com.au