Improved workplace safety the key to future viability
23-08-2013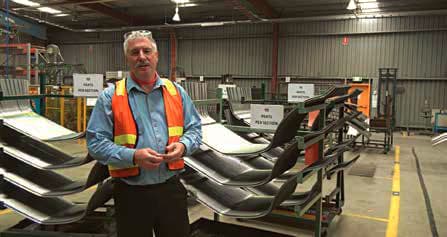 As Ford announces it will cease manufacturing in Australia in 2016, plants across the country are under increasing pressure to improve efficiencies, if they are to survive.
But in such a tough economic climate what can we do to help maximise productivity and minimise unnecessary costs?
In this environment, the safety and protection of workers has never been more important. As an OHS Manager's worst fear, injuries are a leading cause of productivity loss. Not just because of the shutdown that's essential after an injury but also the paperwork, the insurance claims, the rehabilitation process – not forgetting that someone has been tragically hurt.
According to Worksafe Victoria, injuries to the hands and fingers account for 14 percent of all injuries in the automotive industry. These can be avoided by the use of appropriate protective equipment – including high quality gloves.
After a terrible injury at their Geelong plant, in which a worker sliced his hand severely, metal manufacturer Backwell IXL overhauled procedures across their entire operation to better protect employees.
Joining forces with Ansell, together they specified the perfect glove, choosing to use Ansell's Vantage 70-761 across their entire pressings, coatings and roll mills area.
Using one glove model across the whole plant simplified the procurement process and onsite safety instructions are now much easier to understand. There is virtually no risk of workers choosing the wrong glove for the task.
"The support we received from Ansell was amazing, said Operations Leader Daryl Perrett. "Their application specialists visited our plant to help us identify and monitor areas where injuries were occurring, and where the laceration risks were highest, or not fully understood by floor staff."
"The cut resistance of the 70-761 glove and its Kevlar component are perfect for protecting our workers from everyday cut risks," Perrett said. "And as they are heat resistant too, our workers are now also protected against heat injuries, light molten splashes, welding and sharp tools."
This combined effort from Ansell and Backwell IXL has led to a significant reduction in cut injuries at the busy manufacturing plant over the last five years.
"Too often it's a serious accident or near-miss that drives significant safety improvement, said Perrett. "But as our experience shows, safety initiatives often bring about other unexpected benefits, such as productivity and cost efficiency gains."
Ansell
Ph: 1800 337 041