Published 22-10-2020
| Article appears in October 2020 Issue
Improve productivity with an Altrac jib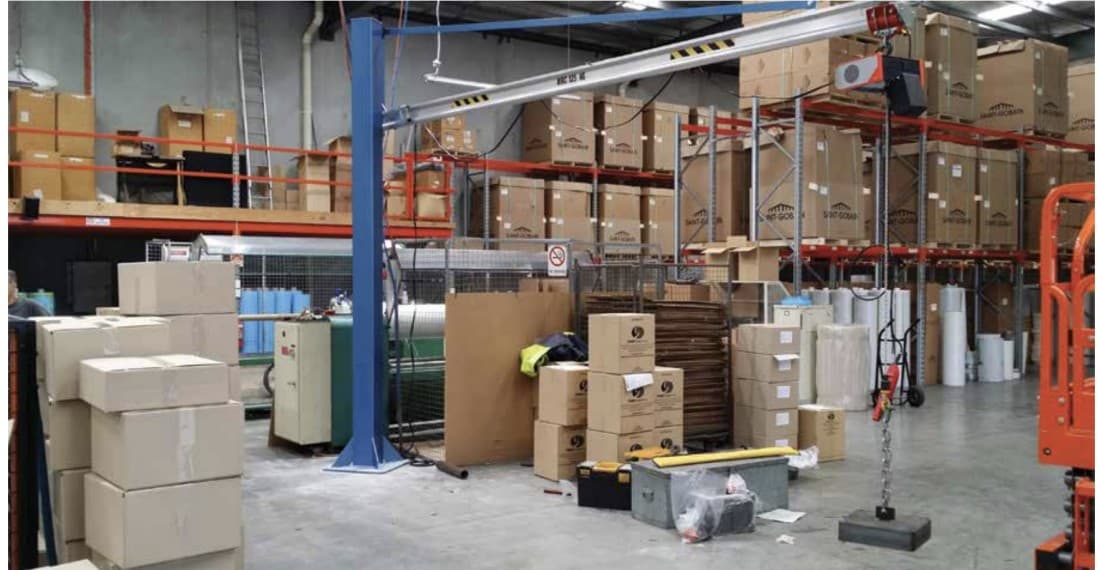 There are currently many shifts happening in workforce from an emphasis on working from home, limited number of workers who can be in the same area, and a changing attitude toward 'soldiering on' and coming to work when unwell.
These all have many positive aspects, but for manufacturing there may be some negative aspects as well.
When everyone in Australia, and particularly Victoria, is being encouraged to get tested for COVID with even the mildest of symptoms, then asked to stay at home until their results are returned, it's a good opportunity to review your productivity.
When it comes to lifting and moving large, heavy or awkward items, an Altrac jib crane can not only improve productivity by requiring fewer people to do the heavy lifting, but also improve safety and reduce risk associated with heavy or repetitive lifting.
One customer, Andave Cabinets, said that it took 3-4 workers to lift heavy sheets of MDF panels from where they were stored in order to load them into a CNC machine.
Each time such a move was required, several people had to stop what they were doing to man-handle the panels into place.
Once the jib was installed, they said, the panels could be easily lifted and manipulated by just one worker, leaving the others to get on with their own jobs.
"Increasing productivity is always great," says Bomac Engineering director Tate McFarlane, "and another, sometimes overlooked, outcome of installing a crane or other well-considered materials handling system, is the increase to worker safety.
Many backs and necks have no doubt been saved from strain and damage by our systems."
"When you can increase your production capacity while also reducing risk of injury," says McFarlane, "that is a win-win situation for everyone involved in the business."
If you would like to discuss how a jib or other crane system could benefit your manufacturing business, contact Bomac Engineering on 03 9796 5300 or visit bomac.com.au to request a quote.