IMPROVE MACHINE PERFORMANCE
31-08-2010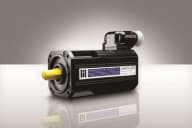 M Rutty & Co. is delighted to have as part of its product offering the NEW high performance brushless servo motor family XtraforsPrime series.
The modular configuration and the slotless stator design are the prerequisites for the wide range of standard models and the superior technical properties of these motors. High speed, high torque, zero cogging, minimal torque ripple, high efficiency and high rigidity: Such attributes make these motors perfectly suited for demanding servo applications.
17 ways have been identified highlighting the ways these motors can improve your machine performance by improving machine throughput, finished product quality, and machine efficiency. Also identified are several ways in which these motors will improve your machine development time.
Standard version
Resolver feedback
Shaft with key way
Protection IP-65
Rotatable angled connectors
PTC thermal sensor
RoHS conform
UL conform (UL-listed pending)
Options
Various types of incremental encoders, SinCos encoders, Hyperface, EnDat
Shaft without keyway
Protection IP-67
Shaft seal
Straight connectors
Direct cable output
NTC thermal sensor
Customized versions
Shafts (i.e. hollow shafts)
Flanges, housings
Windings
Connections
Executions according to customer's specification
For more information, contact M Rutty & Co.