IMPROVE DATA CENTRE THROUGHPUT AND STORAGE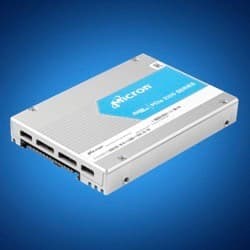 Mouser Electronics stocks the 9200 series of NVM Express (NVMe) solid state drives (SSDs) from Micron. One of the first NVMe SSDs on the market with a capacity exceeding 10TByte, this series offers high capacity, fast speeds and low latency for high-performance functions such as application and database acceleration, online transaction processing, high-frequency trading and high-performance computing.
These drives blend the capabilities of 3D NAND and NVMe technologies for enterprise storage. They are built on an innovative architecture that combines NVMe protocols on a PCIe connection to deliver fast enterprise flash performance up to 10 times faster than SATA SSDs, plus 3D NAND high-density storage that conserves power and rack space. They deliver sequential read/write transfer speeds up to 5.5 and 3.5GBytes/s, with random read/write transfer speeds up to 900K and 275K input/output operations per second to turn data into information with low latency and high performance.
The Micron 9200 includes three endurance classes: the 9200 PRO is designed for read-centric use at roughly one drive write per day with capacities from 1.9 to 7.6TByte; the 9200 MAX supports mixed-use workloads at about three drive writes per day in capacities from 1.6 to 6.4TByte; and the 9200 ECO offers the highest capacities at 8 or 11TB and is designed for fewer than one drive write per day.
The Micron 9200 series SSDs are designed as the storage foundation for the Micron SolidScale platform, providing greater capacity for more efficient workload optimisation and reducing total cost of ownership. With the 9200, SolidScale will be capable of over 250TByte per node, scaling over 5PByte per rack of one of the highest performance NVMe SSDs available in shared storage today.
Mouser Electronics
+852 3756 4700
au.mouser.com