Impresstik Launches Accumulation Tables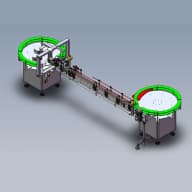 Due to increased request Impresstik Systems have now made available as part of its labelling machinery range infeed and outfeed accumulation rotary tables.
The rotating tables are VSD controlled and can easily integrate into any Impresstik labelling machine, with speed, start/stop and level settings made available from the labelling machines operator HMI terminal.
Infeed tables are supplied with a feed belt to aid product transfer, and can also detect and correct product blockages.
Tooling rails are all easily adjustable at the critical areas, and all danger points are thoroughly guarded for personnel safety.
For more information contact Impresstik Systems.