THE IMPORTANCE OF A CORRECTLY SIZED AIR RECEIVER
06-12-2017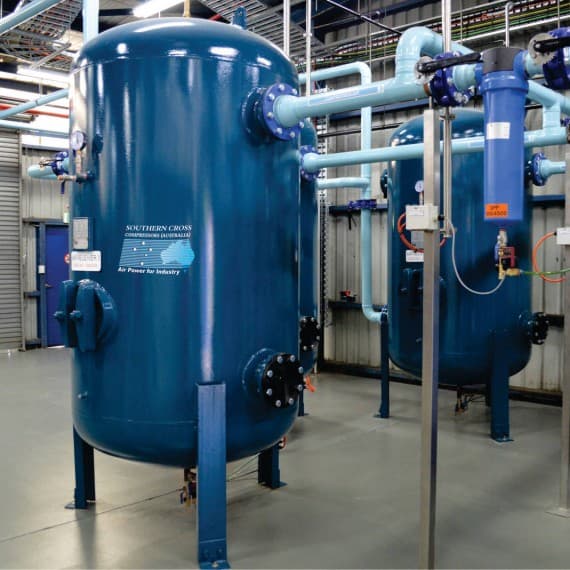 Air receivers are generally one of the most underrated items of plant in a compressed air system. However, by providing compressed air storage and acting as a buffer between the compressor and the air reticulation system, a correctly sized air receiver can significantly lower energy and maintenance costs.
A correctly sized vessel has the effect of limiting the load/unload cycles (or stop/start cycles) of the compressor. This reduces the risk of excessive wear and tear on the control system and the drive motor.
The vessel volume directly impacts the off-load cycle time and overall energy costs for partly loaded compressors. Cycling compressors vent their internal pressure when 'off load' to reduce absorbed power. If the off-load time is too short then the compressor never really fully unloads which results in higher overall energy usage.
The compressor off-load time is a function of storage volume, pressure settings and plant demand. Even a variable-speed-drive compressor needs an adequate storage volume to ensure a clean signal to the control system to ensure steady system pressure.
Air receivers offer the added benefit of separating liquid condensate that is entrained in the compressed air. By reducing the air velocity through the vessel to below 0.6m/s, moisture droplets will fall out under gravity and the fluid can be easily drained away using a good quality automatic drain valve. This reduces the moisture load on corresponding filters and dryer, improving their life and efficiency.
It is important to appreciate that an air receiver cannot provide more air for the plant than the compressor/s can deliver. However, in some circumstances an engineered air receiver can accommodate a high demand over a short time frame, potentially avoiding the need to invest in a larger compressor.
In applications where air is used in short bursts, such as tyre fitting and the like, a larger air receiver is often the right solution, and can result in significantly lower investment and running costs.
It is clear that the energy saving benefit of extra storage capacity far outweighs the additional cost of the vessel, and all compressed air systems can benefit by having the right size air receiver regardless of the size and type.
Southern Cross Compressors
1300 098 901
www.southerncrosscompressors.com.au