iMoulder app from Imtech - mobile injection molding expertise
31-08-2010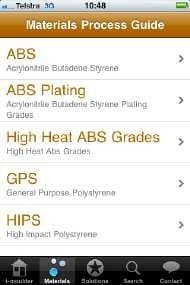 Keith Hague, director of Imtech Design Ltd., Melbourne Australia & U.K.-based Moldflow Gold Certified injection molding consultancy, created the iMoulder app in 2010, with versions for Apple and Android.
Keith describes the app as a "Plastic injection molding trouble shooter and materials guide."
The app has three main areas:
Materials Process Guide: generic processing information for a range of commonly used injection molding materials
Injection Molding Solutions Guide: solutions to common injection molding problems (think splay, jetting)
Materials Search: Materials database with common polymer grade names, generic names and manufacturer's details
iMoulder has been a hit with users, rating 4.5 stars on Apple, with six reviews, and 4.8 stars on Android from 56 reviewers, with 49 giving it a full five stars. Apart from some suggestions, users offered up glowing comments, ranging from "use it almost every day" to "I love this app, thank you."
Keith told PlastixANZ the iMoulder's genesis dates back nearly a decade. "About 10 years ago I developed a simple injection molding process condition chart for a range of common materials, and this was well received by my customers."  
"In the plastic consulting business, we get asked similar questions over and over from different customers, so I decided to put together a simple trouble shooting guide but I was struggling to work out how to publish it and keep it pocket sized."
Keith said his wife, who is a children's author, had begun looking at eBook platforms and he seized on the potential for an electronic version of this trouble shooting guide. Keith estimates that there have been 40,000 downloads since the app's June 2011 launch, with 1000-1200 new users added every month, split evenly between Android and Apple.
Updated version
"An update for iMoulder is currently in the planning stage it will include a new user interface, a expanded material library and updates to the trade name and suppliers database."  User feedback is guiding some other potential changes, including:
Volume, shot weight, dose calculation
Tool size vs. part size shrinkage calculation
Conversion formulas, including Celsius to Farenheit; MPa / kgf / Bar / psi
Cycle time in seconds to parts per hour
Clamp force: Projected area x Pressure
Keith told PlastixANZ that several material and hot runner suppliers have told him iMoulder is now standard field kit for their tech service engineers, which makes sense given its all-the-time accessibility.
"The main concept behind iMoulder was that the app should contain all the information on the device and not rely on internet coverage so the user can access information equally well standing next to a molding machine on the shop floor or back at the office." 
 
Imtech Design LTD Moldflow CAE Services
0397239917
www.imtechdesign.com