IF YOU'RE REALLY SERIOUS ABOUT HEAVY-DUTY CUTTING IT'S TIME FOR A MAGNUM P.I.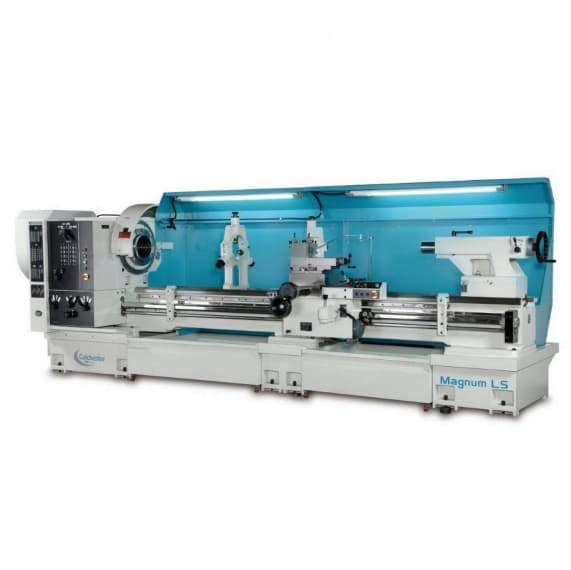 The biggest manufacturer of lathes in Europe, with a track record that began in Victorian times, is not resting on its laurels.
The latest of many new releases in 2015 is particularly exciting because it marks the return of a range of machines that have delivered yeoman service to workshops around the world for many years.
The genial managing director of 600 Machine Tools in Australia and the Asia-Pacific region, Cliff Purser, explains: "One of the Colchester-Harrison division's most popular machines, the Magnum large swing, large bore centre lathe is back … big time!
"This range was withdrawn for major enhancement, and the new specs will meet the requirements of a wide range of industries – but especially heavy engineers in, for example, the oil and gas industry."
The new Magnums have been specifically-designed and purpose-built for serious cutting.
Each model in the two ranges bears the coveted CE mark, which guarantees compliance with all European standards and an exemplary standard of safety.
These sturdy and powerful centre lathes are available in two types – the Magnum VS660 with spindle bore of 104mm (4-inch) and 155mm (6-inch) optional, and the Magnum LB800 with spindle bore of 104mm (4-inc), with options of 155mm (6-inch), and 230mm (9-inch). The latter has now increased from two to three options.
There's a choice of four models in the Magnum VS660 range, with the distance between centres being from 1500mm to 4000mm.
These machines have a swing over bed of 660mm (26 inches) and a swing in gap of 960mm (37.8 inches). The bed width is 480mm (19 inches).
The spindle bore is 105mm (4-inches) and the spindle nose is a Camlock D1-11, and the speed offers three infinitely-variable ranges. The spindle motor is rated at 20kW (30 hp) to deliver the power needed for heavy-duty cutting.
In such industries as oil and gas, mining and ship-repair, there is continuous demand for production of "serious" pieces of hardware, such as pipeline valves that stand higher than a man.
Accordingly, the muscular Magnum LB VS800 has been radically redesigned at Heckmondwike in Yorkshire, incorporating the experience of English and Scottish workshops producing components for the North Sea oil fields. 
This newcomer has 405mm centre height, with swing over bed of 810mm (32 inches), swing over cross slide of 580mm (22.8+ inches), and a length in front of the faceplate of 300mm (12 inches), allowing a swing in the gap of 1100mm.
The LB VS800 offers flexibility too, with its 20 KW motor (30 hp) and its infinitely variable speed range up to 1000 rpm. With the optional 230mm spindle bore allowing up to a speed range to 600 rpm.
"The mighty Magnums will be a blessing for heavy engineers needing machines that offer a combination of fitness for purpose, reliability, and a long working life," Mr Purser said.
"Now available in Australia, these beefy machines incorporate all the features and benefits that have made Colchester-Harrison lathes globally popular for more than a century.
"What we have with the return of the Magnums is the company's traditional accuracy, productivity, and ease-of-operation, combined with the sturdiness and power needed for serious metal cutting at speed."
All members of the 600 Group – including Colchester-Harrison, Clausing of the USA, Pratt Burnerd, and Electrox Laser Marking – do not market new products without stringent testing – all the way from design and manufacture to installation and commissioning.
A recent example occurred when the first of the new Magnums were put through its paces by the team at 600 Machine Tools, to see how the newcomer performed.
The manager for NSW, Steve Drummond, rolled-up his sleeves and set the Magnum VS660 some real-world tasks.
"We carried out some heavy-duty cutting tests with good results, said Mr Drummond. "Cutting EN8, we ran the machine at 265 rpm and a feed-rate of 0.35mm/rev and cut up to 12mm depth of cut per side pulling around full power from the 20 kW spindle motor."
The company's engineer, Pat O'Doherty, confirmed that operating the new Magnum was simple and straightforward for experienced or newly-trained operators.
Mr Purser added: "Regardless of whether your workshop is within sight of Sydney Harbour Bridge or is cooled by the Fremantle Doctor, you will be able to watch the new Magnums in action.
"In addition to 'hands on' demonstrations, our network throughout the world now has a video of both new ranges."
"After our tests of the new arrival, we decided to call it after the Tom Selleck character, Magnum P.I. – because the early customers in Europe now regard the Magnum as the Perfect Investment."
600 Machine Tools
Ph: 02 9674 4738