IDEAL SOLUTION TO THE SKILLS SHORTAGE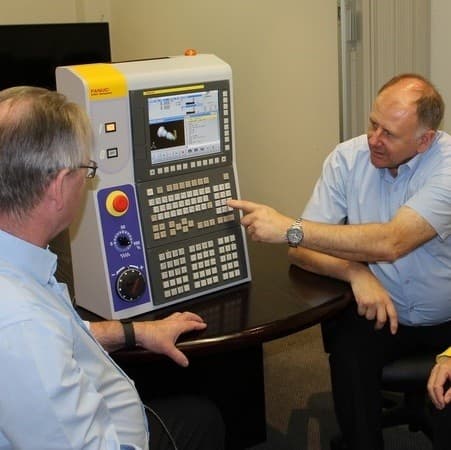 Pat O'Doherty and Steve Drummond from 600 Machine Tools examine the new simulator with Chris Zuber, Fanuc Oceania service manager.
Most of the world's industrial nations are experiencing a skills shortage, especially in the manufacturing and processing sectors.
And most employers seek trade qualified and experienced machinists, with 3-5 years post qualification experience commonly considered to be highly desirable.
While there were a limited number of roles for which first class machinist qualifications were regarded as essential, many employers noted that toolmakers, along with fitters and turners, commonly held the skill-sets necessary to perform machining roles at the first class level.
The problem persists, nationwide, despite the substantial efforts being made by the country's trade-training institutions.
One of the answers is to harness technology and, for example, many industrial companies in Australia have achieved massive improvements in productivity by switching from manual operation to CNC.
Such a move can revolutionise a workshop, not only improving accuracy, reducing the cost per component, and slashing delivery times, but it does require training – and a machine being used for training is not producing components.
So, somebody has got to think outside the box – and that is exactly what has happened at Fanuc, the world leader in CNC systems.
The exclusive distributor for Fanuc CNC RoboDrill in Australia, 600 Machine Tools, is now able to offer the CNC Simulator, which has been described by engineers and workshop managers around the world as "the most significant breakthrough in training for machine tools ever to be launched."
600 Machine Tools managing director, Cliff Purser, said: "Demand for these simulators is off the scale. However, we now have an allocation for Australia, with delivery this year."
The Fanuc CNC Simulator is a training device that is specifically for learning CNC programming and operation.
It helps workshop personnel of all ages and levels of skill to learning CNC operation. Trainees use a CNC display, MDI key, manual pulse-generator used in machining tools, in addition to learning programming and checking the created machining-program.
The CNC Simulator is based on the Fanuc Series 0i – Model F platform and can be operated in either milling or turning configurations. Students can program the simulator as a 3-axis mill or a 2-axis/1-spindle turning system. The simulators are portable, and require only a standard electric outlet.
The unit is a complete Fanuc CNC control with a 10.4" LCD monitor and a QWERTY keyboard, so students experience the look, feel, and layout of the control as they navigate and program a fully-functioning CNC. Students can transfer the programs to the machines using the built-in Ethernet connections or standard Flash ATA or USB interface.
The CNC Simulator is loaded with Fanuc Manual Guide i conversational programming interface, which allows users to graphically generate programs that are simulated in 3-D prior to being converted back to conventional NC programs and used on machine tools.
This simplifies programming and enhances productivity. By learning process-orientated conversational programming, students can focus on machine operations instead of just G-code, which leads to faster, more efficient operations.
Mr Purser said: "600 Machine Tools has always been willing and able to provide customers throughout Australia with a complete package – machine tools, installation, commissioning, operator training, and continuing support.
"However, the arrival of the Fanuc CNC simulator means that engineering companies and training institutions are now able to undertake training of their operators, not forgetting that many apprentices are already more familiar with computer technology than the tradesmen who take time to teach them about its benefits and application in the workshop."
He emphasised that demand for the simulators is initially expected to exceed demand, and that prospective users in industry and education, are advised to express their interest as soon as possible.
600 Machine Tools
Ph: 02 9674 4738
www.600machinetools.com.au