Published 28-01-2021
| Article appears in February 2021 Issue
ICP DAS' iWSN-1110X Sensing Module for AC, digital and temperature measurement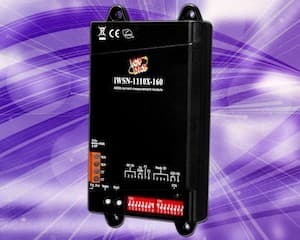 ICP Australia is proud to introduce ICP DAS iWSN-1110X iWSN Current Sensing Module with 1-ch CT Input and 1 Expansion Interface.
 
The iWSN series sensing module is a self-powered module for AC, digital input, and temperature measurement.
 
It can harvest the demand for electricity from the CT induced current so that it's not necessary to supply the power line for power supply.
 
Utilizing sub-1G RF communication interface, iWSN series can approach to real wireless deployment.
 
The diversified IO interface, such as split-core CT, Rogowski coil, NTC thermistor, and dry contact DI, provides users with more choices for various applications.
 
Considering the maintenance and installation, the iWSN sensing module uses the DIP switch and rotary switch for configuration.
 
Through the flexibility of the expansion interface and good price-performance, the iWSN sensing module can be widely used in the application of saving power, big data analysis, and predict maintenance.
 
KEY FEATURES include being self-powered by Built-in a Chargeable Li-ion battery as well as split-core current transformer (CT) for easy installation.
 
Energy is also harvested from the CT Induced electricity and it uses 433 MHZ  Radio Frequency for Communication.  There are 16 RF Channels and 4 Group ID, and consists of maximum 64 RF Sub-networks.
 
It also supports Maximum 400A CT and finally provides Expansion Interface for Flexibility and Expansibility which Offers Wall-Mount Mechanism and Magnet for Installation.