Hyster UT series 5-7t forklifts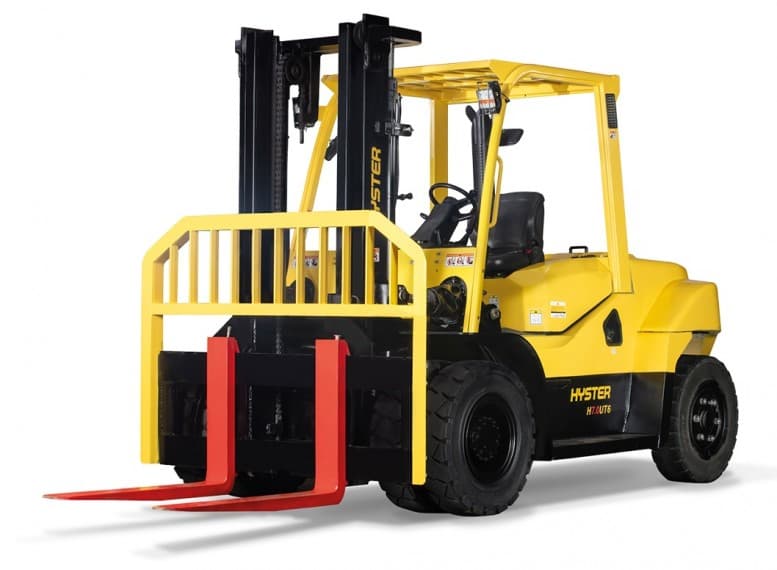 Materials handling equipment specialist, Hyster, is expanding its UT Series with the introduction of its H5.0-7.0UT range of 5-7 tonne forklifts, designed for optimum driver comfort and control.
The new forklifts follow on from the recent launch of the 4-5t range, with the additional lifting capacity for loading and unloading tasks involving heavier goods.
"With the new forklifts, Hyster designers and engineers literally put themselves in the driver's seat. For drivers to be productive and safe, they need to be confident in their equipment – and the equipment has to be designed to respond to diverse site conditions, with the features that global experience tells us are the driver's choice," said Hyster Area Business Director, Pacific, Mr Mark Chaffey.
"The result was a robust and quality engineered forklift, designed to be the ideal solution to meet less frequent materials handling needs, while still offering the outstanding performance and service backup that Hyster is known for globally," he said.
"Through our global network of authorized dealers, Hyster offers expert local service, spare parts availability and rapid response times, to keep industries moving with minimal downtime or delay."
Driver-focused features
Forklift drivers that are more relaxed, and experience less discomfort, tend to perform better and stay safer while on the job, so driver comfort was one of the top priorities in the design of the new Hyster UT Series 5-7t forklifts. Stand-out features include: 
a full suspension seat, with an operator presence system fitted as standard, to provide comfort, right from the outset
a low step height, with convenient step placing to suit a variety of heights, to provide easy access to the truck
a high strength overhead guard, made from profiled steel, to enhance operator protection
a small 300mm steering wheel, with eight degrees of adjustment to suit different operators, and to allow for good maneuverability when working in confined spaces
a wide mast view, which delivers excellent visibility of the load, as well as the operator's forward view, thereby optimising safety and productivity.
"Whether it's loading or unloading a truck, or moving goods in a retail application, the new UT Series 5-7t forklifts provide the comfort to maximize productivity, efficiency and safety," Mr Chaffey said.
"Another major focus for the new forklift range is low total cost of ownership, with a large range of spare parts that are interchangeable across the broader UT Series, and large access areas for easy servicing," he said.
"Hyster authorised dealers are backed by the global Hyster-Yale group with a full product line of lift trucks in operation across hundreds of industries worldwide. Local dealers will carry strong supplies of spare parts and will be ready to provide expert service to local industries," he said.
The Hyster dealer and service network extends across Australia, New Zealand, Thailand, Malaysia, Vietnam, Indonesia, Singapore, Philippines, Korea and Taiwan.
Strong distributor network
Hyster already has a strong and long-established professional dealer and service network extending across Asia-Pacific, strength that is in turn backed by Hyster globally, which has been building relationships and partnering with customers, suppliers, dealers, and employees over many decades. See www.hyster.com for more.
The new Hyster UT series range embodies the quality features that have been at the heart of the Hyster brand for nearly 90 years, including intelligent design, product testing, quality of manufacturing, quality of suppliers and environmental emphasis.
Rather than offer one-size-fits-all solutions, the UT Series philosophy opens a discussion with customers to ask, "What are your specific needs and how long do you need to use it for on a daily basis?"
"Then our established Asia-Pacific dealer network can bring their extensive expertise to deliver cost-effective, quality solutions for individual customers," Mr Chaffey said.